If this Mercedes-AMG GT S could only happen…
Piecha Design reveals first couple of renderings of the customized AMG GT S
Remember when we showed you the first sketch of Piecha Design's Mercedes-Benz AMG GT S? Well, it is now time for the project to be fully revealed! Behold, for it is something entirely unexpected…
Leaving jokes aside, this car actually looks pretty good, given the fact that Marcus Piecha and his team told us initially that we should not expect an entirely new design. Their aim was to highlight the beautiful character of the Mercedes. And they have definitely achieved that.
Another advantage is that the basic shape of the car is attractive, hence it is way easier to make something look better when it is so good from the start. Anyway, this dream sports car is now taking shape and although still in a rendering form we can see some of its unique qualities.
SEE ALSO: This is how the Mercedes-AMG GT S could look, if …
In short - it is all about carbon-fiber here, exposed and unexposed. The best part of this project is probably the extra-wide rear that was designed by the owner. He actually told us that affixing it gave him some sleepless nights, because he wanted to keep the original brake wings fully operational.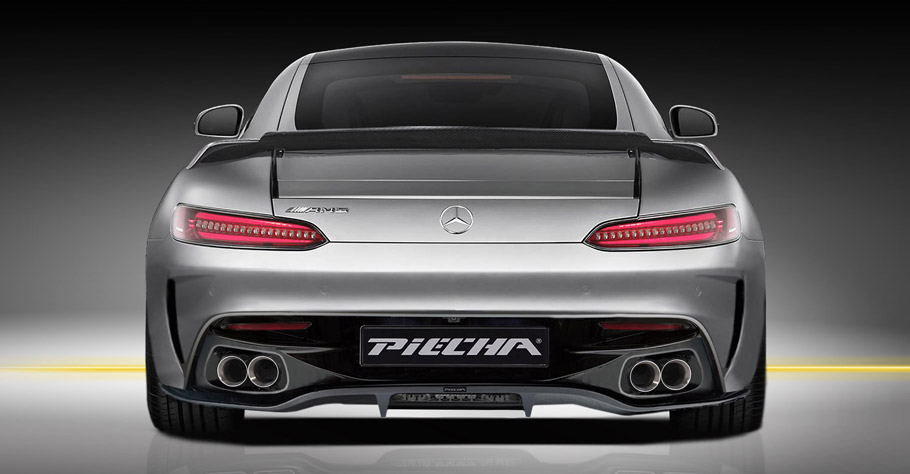 Another attraction here is the slim lower "back-end" with its four-pipe exhaust with 90mm outlets. And to give you a hint of what's next – there is new suspension on the way, which will contribute for more dramatic stance and better driving characteristics. Furthermore, we have more extra carbon-fiber goodies, including side blades and front-cup wings as well as air splitters in the front apron.
What can't be seen in the renderings is the performance optimization that we were promised. So we should expect significant gain over the production numbers that the Mercedes-Benz AMG GT S has. Namely, 510 hp (375 kW) and 650 Nm (480 lb-ft) of torque.
"But that's not all," says Marcus Piecha who is most probably going to surprise us with the full release of the project very soon. Stay tuned!
Source: Piecha Design