Pininfarina Cambiano Concept
It's been a lengthy wait but it was worth it. It's the Pininfarina Cambiano – the design house's latest automotive top model. The idea behind it is to sort of celebrate the Pininfarina establishment. 2012 is a dual anniversary for them: 30 years with the Style Centre, set up in Cambiano in 1982 as "Pininfarina Studi e Ricerche", and 10 years of technological innovation with the Engineering Center that was put in motion in 2002. So this one had to be special. It had to blend genuine good looks with awe inspiring technological advancements. And the end product does exactly that actually: It's a Plug in hybrid with four electric motors and a turbine. At the same time it is utterly simplistic and elegant, baring fluidic lines and has little to no details in excess on its body. It is all about sustainability, eco-conscious thinking, efficiency, grace and a bit of flash.
By flash I do mean the mad scissor doors on the right side of it, don't I? There's no pillar between them and it all seems quite functional but you can't help but thinking: "Cool". On the other hand...side, the driver's door is kind of lonely which creates a sporty coupe feel. Then there's the panoramic roof – part translucent, part transparent, it supports itself on a rather futuristic frame that resembles a honeycomb structure. The whole car is meant to be slippery as it has spent quite a while in Pininfarina's wind tunnel. Weight reduction is also a priority – the cabin cell is from carbon fiber, while the front and rear frames that support all the techy bits are from aluminum. All and all, the Cambiano weighs 1695 kg which is astonishingly light for a hybrid.
Inside, light channels carved trough the ceiling, the doors and the floor remind you of those emergency paths you are supposed to follow upon evacuation in commercial airplanes. The floor itself is made up from recycled wooden pieces – one of the Cambiano's many sustainable traits.
Most sustainable of all is the drivetrain. Or should I say drivetrains? It's got four electric motors (one for each wheel, two at the front frame, two at the rear one). They are a product of the Magnet Marelli company and each one of them provides a continuous supply of 60 kW with peaks of 150 kW. Simple math tells us then, that the Cambiano has an overall maximum power output of 600 kW. Torque is 640 Nm. All motors operate independently and incorporate things such as energy regeneration upon braking, electronic stability control with a Vectoring Stability Program (sends different lumps of torque to each wheel) and ABS. On Sport Mode, zero to a hundred takes 4.2 seconds and the top speed ends up being 250 km/h.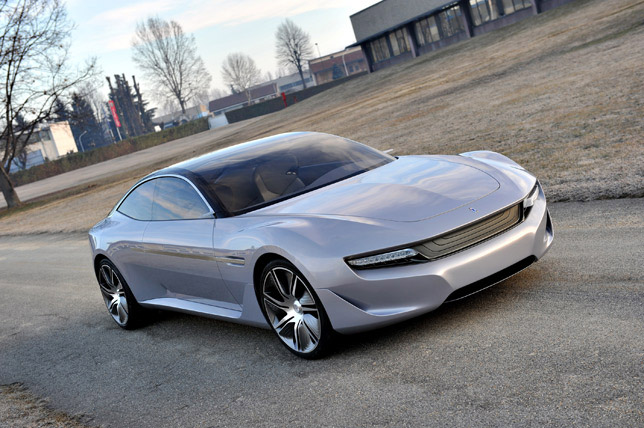 The Cambiano however, doesn't stop with the electric motors. It also has an APU (Auxiliary Power Unit) which is basically a 50 kW micro turbine made by Bladon Jets. It runs on sips of diesel and charges the batteries when needed. On the flip side, it can also provide power directly to the motors. Although it weights only 40 kg and is Euro 6 complaint, the idea is to avoid running it as much as possible. When the battery charge falls bellow 20%, it automatically kicks in. At speeds of 50 km/h or less it shuts down as it assumes you are in a traffic jam. Of course the driver has the power to override these processes with a fully manual control on the turbine. The whole system is so smart, that it will learn from the GPS system on what kind of road the Cambiano is. After doing so, it will optimize the usage of the APU in what seems the best and most frugal way.
The lithium ion batteries are provided by FAAM and are placed in between the rear seats and rear axle. The pack has a capacity of 50 kW/h and a peak power delivery of 500 kW. At a 6 Kw/h grid, recharging takes 6h while APU recharging takes only 52 minutes. On a single charge, the Cambiano will run for 250 km. With the turbine running, that range goes up to 800 km. The packs are also temperature regulated so no external factors should play a role on the efficiency.
It really is a master piece this car – it has the looks, it has the clever insides, it will soften up even the most skeptical environmentalist while putting a smile on a demanding gear head. If the Cambiano becomes a prime example of future motoring, very soon there won't be any faults with the mainstream cars and we won't have anything to talk about with our friends.
Source: Pininfarina