Pininfarina Cambiano Concept Update
New teasers coming from Pininfarina about their Cambiano concept and the prognosis is looking good. We still can't be sure however, that this will be a whole car for so far we have only seen halves of it. No worries though, because what we see here leaves a decent amount of space for pondering and speculation.
Judging from the pictures down below we have a sleek sporty coupe with a remarkably short engine bay. The design ergonomics, with all those curves and lines, feel slippery and dynamic. Also, that tiny wing-mirror hints a great deal of aerodynamic conscientiousness. Then there's the party piece - a full sized panoramic roofline held together by something that looks like an exoskeleton. Neat! The interior boasts a roomy cabin with seating for four (or two if it really turns out to be a half-car) and there are some wooden veneers in the luggage department, so that's interesting. The steering wheel brings to mind an airplane's techy analogue cockpit while the cappuccino color patterns counter with the aesthetics of an Italian coffee shop.
Cambiano is the name of the small town which houses Pininfarina's works. This year the community is to mark two anniversaries: 30 years with the  Pininfarina Styling Centre (called, back in1982, the "Pininfarina Studi e Ricerche/Pininfarina Study and Research") and 10 years of development with the Pininfarina Engineering Center.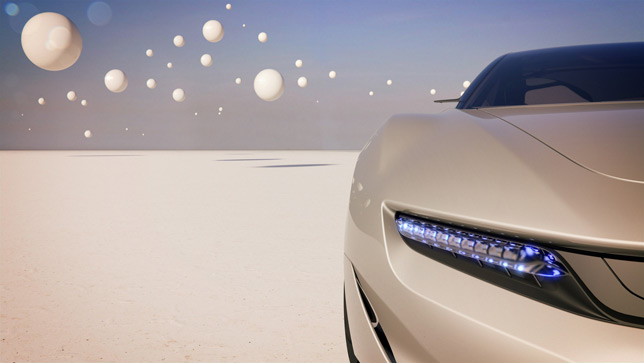 Source: Pininfarina