Porsche Macan and Cayenne Receive TECHART Air Suspension Module

TECHART is a company known for its fantastic work on Porsche models. Now it is releasing a special Air Suspension "Sport" module for the Macan and Cayenne models. When equipped with it the vehicle will benefit of sportier driving dynamics, enhance athletic looks and greater comfortability. The module has the capability of lowering the vehicles up to 22 mm, depending on the model.
To go into details, the exclusive feature is an added function which has been praised since it was revealed on company's plug-in systems for previous Porsche models with air suspension. There are several modes of adjustment, that offer more direct and agile ride height levels.
SEE ALSO: Techart Releases new Tuning Kit for Porsche 911 GTS Models
The Macan can be lowered by 10mm in Normal Level, while the Sport Plus mode and the Low Level bring the vehicle closer to the ground with 20 mm. The Terrain Level is that one which has been kept the same as the standard level.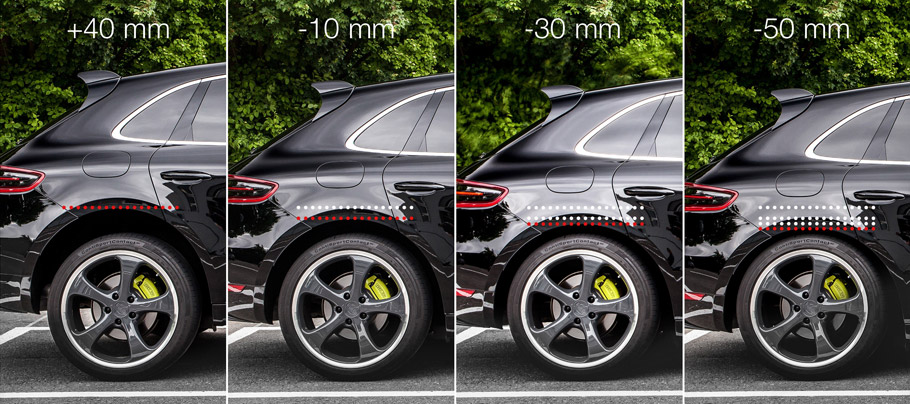 What is more, there is even a Loading level that allows for easier loading of the luggage compartment. In this mode, the rear end of the Macan can be lowered even more in order to achieve the added comfort.
The height of the chassis of the Cayenne, when equipped with this feature, can be reduced by 22 mm in Normal Level and by 10 mm in Low Level.
At last, the specialists have developed the unique Automatic Parking Level feature for both Porsche models. How does it work? After locking the vehicle, the body is automatically lowered by another 30 mm or 20 mm, in case of the Macan and Cayenne, respectively. As a result, both get a one-off appearance, which distinguishes them from the standard series models.
Source: Techart