Porsche reveals the 2018 Panamera 4 E-Hybrid. Definitely they got us with this one!
Ahead of the official debut at the Paris Motor Show Porsche team reveals the Panamera 4 E-Hybrid model. Confident, beautiful and functional, this latest additional to the lineup fills an exact gap: it will be both aggressively agile and efficient. Many will say that this is a sort of contradiction, but it looks like Porsche team has given it a shot.
In terms of drivetrain specs, the new Hybrid machine offers all-wheel drive, 462hp (344kW) power output and... 2.5l/100km fuel consumption. Sounds good? Yes it does. But we still wonder whether these numbers are correct and whether this is the next marketing gimmick or this time it is for real. But soon we will find out.
Drivetrain system
Porsche Panamera 4 E-Hybrid manages to sprint from 0 to 100km/h (62mph) in just 4.4 seconds and chases a top speed of 309km/h (172mph). Just like its brother, the 918 Spyder, this sweetheart incorporates the same hybrid strategy: it not only uses fuel far more efficiently, but also gives this neat sporty kick to the Panamera.
There is also this new thing, called "E-Boost". What it does is to unleash additional torque and horsepower output, when driver has pressed the throttle pedal at least 80 per cent of the way down.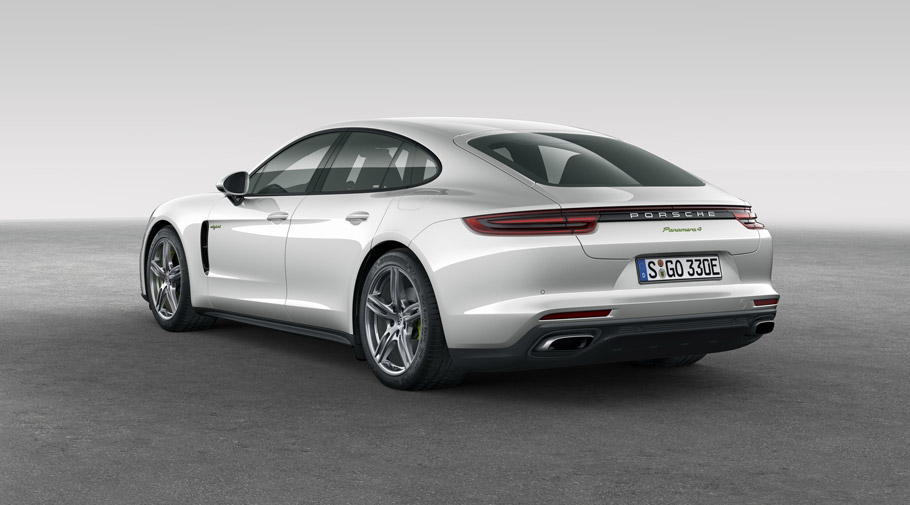 And let's talk a bit about the electric engine. This liquid-cooled lithium-ion battery-charged thing delivers 14.1 kWh and is placed under the luggage compartment floor. Although it is bigger and more powerful than previous models, the weight hasn't changed. What has changed, though, is the charging time: it takes only 12 hours to be fully charged. Sweet.
Additional equipment and system improvements
This Panamera model comes with improved Porsche Advanced Cockpit concept. There is larger infotainment display, two additional seven-inch screens and maybe the most notable addition is the overall revised intuitive operating principle that offers easy control of the multimedia and automated processes that do not disturb the driver while driving.
The driving modes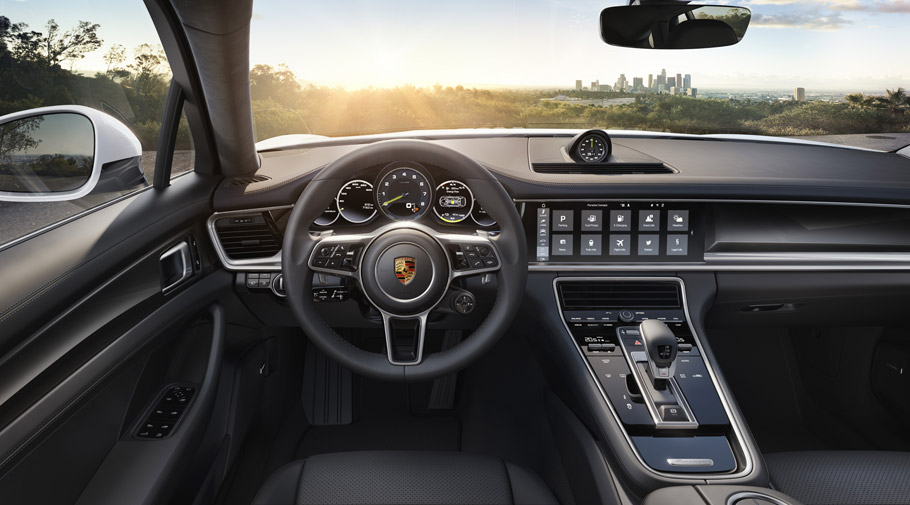 Of course, as any other Panamera model,  the E-Hybrid offers incredible driving comfort and versatility. Indeed versatility is the word to use, when talking about the driving modes. There are a total of four: "E-Power", "Hybrid Auto", "E-Hold" and "E-Charge". Going from smooth and soft ride towards aggressive sporty experience, drivers can be ensured that they will find their "sweet spot", when tweaking the modes.
SEE ALSO: More power and neat wheel sets: WIMMER team tweaked the Porsche Macan Turbo
2018 Porsche Panamera 4 E-Hybrid is expected to be available for order in summer of 2017. More details and prices will be announced later this year.
Stick with us for further information!
Source: Porsche