Power, Beauty and Soul: 2014 Aston Martin V12 Vantage S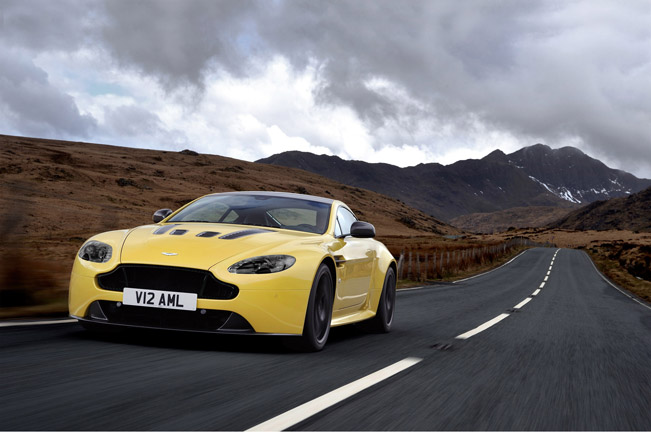 2014 Aston Martin V12 Vantage S has made its debut today and it is going to take the place of the outgoing V12 Vantage in the world-wide markets, except for the One-77 Hypercar. In fact, this model is the fastest road-going Aston Martin ever produced.
V12 Vantage S comes equipped with the new AM28 6.0-litre V12 engine. Thanks to it this Aston Martin model is capable of reaching a maximum speed of 205 mph. With it it generates 573 horsepower (421 kW) and 620 Nm available at 5,750 rpm.
In addition, the model is equipped with race car technology, for example there is the CNC machined combustion chambers and hollow cam shafts. Another instance is the new gearbox - the Sportshift™ III AMT (automated manual transmission) which is a development of the automated manual gearbox seen in the current V8 Vantage S.
Furthermore, in the car debuts the three-stage adaptive damping, which allows the driver to more precisely tailor the car's dynamic character. It offers 'Normal', 'Sport' and 'Track' modes that are made to better suit the driver's requirements.
Other new highlights here are the exhaust system that has been "taken" from the One-77 Hypercar and the ZF Servotronic power assisted steering. The latter delivers quicker 15:1 ratio and is linked to the adaptive damping button.
I terms of exterior, the car stands put with its exclusivity and aggressive presence. The first elemnet that grabs the attention is the grille which includes a carbon fibre arrangement of the famous aluminium vanes. The new grille is designed to optimize the airflow to the V12 engine, and it is inspired by the CC100 Speedster Concept.
In this car also a debut make the new lightweight forged alloy ten-spoke wheels and the exterior graphics pack that features black painted roof and part-painted boot panel. What are kept in this model are the proportions and the masculine stance.
Next, the interior of the vehicle also reflects the sporty nature of the model. It includes new-style seating with Sport and carbon fibre Lightweight seat options, revised stitching and welt detailing, two leather grade options – Luxmill and semi-aniline – plus the possibility to include Alcantara. Furthermore, there is an optional Carbon Fibre Interior Pack that that adds carbon to V12 Vantage S facia and door pulls.
Source: Aston Martin