Roush F-150 KTM
Pickups and motorcycles go together like sunshine and a summer afternoon. You can hardly think of one without associating the other. So it would be natural that KTM, a leading manufacturer of street and off-road motorcycles, would partner with ROUSH Performance to build one of the hottest trucks on the market – with or without a bike in the back.
ROUSH Performance is the leading builder of the Ford F-150, the most popular vehicle in history. The Livonia, Mich.-based company teamed up with KTM to add a unique signature style and performance components to create a truck like no other, one that will appeal to both riders and those drivers simply wanting to make their presence known on the road. It is a pairing of the best from the two-wheel world working with the best in the truck world, two winning motorsports entities known for their workmanship and results.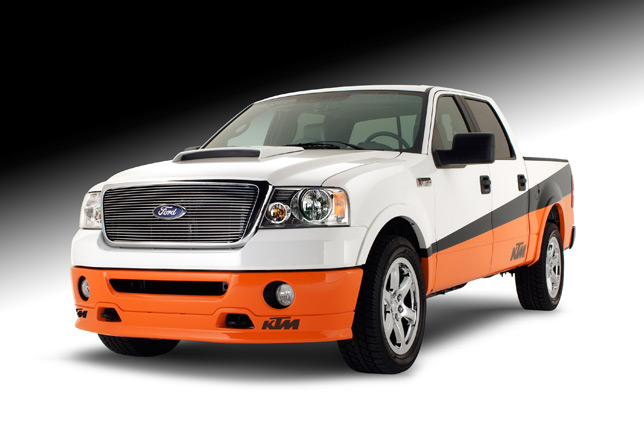 Roush F-150 KTM
The standard features of this machine are anything but basic, and include a KTM/ROUSH-exclusive paint and graphics package and two-tone KTM-branded leather interior. The painted front bumper, chin spoiler, hood scoop and 20-inch chrome wheels with high-performance tires definitively set this F-150 apart from others on the street. The billet aluminum grill adds a touch of class, and intimidation if seen from behind you in the rear view mirror.
The truck will be available in a choice of 4x4 or 4x2 as well as Super Crew or Crew Cab models. The vehicle is powered by the stock Ford factory 5.4L, 3-valve engine which has 300 horsepower and 365 lb.-ft. of torque under the hood.
For those in a hurry to get that bike where it needs to go, one of the most popular upgrades is sure to be the addition of the ROUSHcharger™ supercharger system which boosts the horsepower to a monstrous 445 and 500 lb.-ft. torque. This system is completely covered by ROUSH's industry-leading 3-year/36,000-mile warranty on all components.