Saleen FOURSIXTEEN is Enhanced Tesla Model S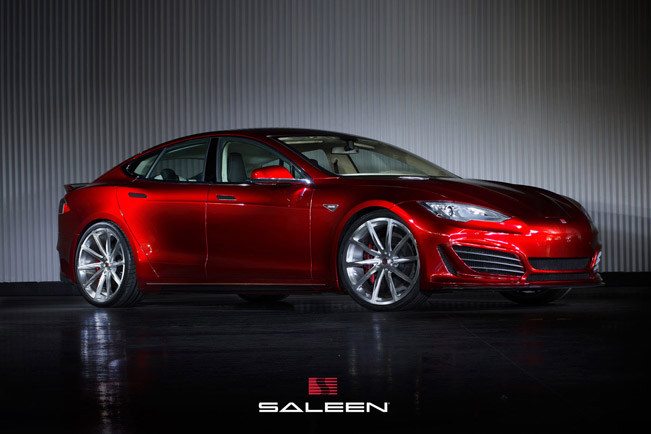 In the beginning of the year we were informed that the first electric car to be transformed by Saleen will be the Tesla Model S. The FOURSIXTEEN performance electric car was shown for the first time at the 2014 Pebble Beach Concours d'Elegance. The exterior of the car is an example of a harmonious blend of aggressiveness and class. It features the emblematic Saleen DNA design with brand new front fascia and carbon fiber rear diffuser.
At the front of the FOURSIXTEEN there are also aero management vents, which maintain the low pressure field as air acceleration increases around the chassis. In addition, there is also one-of-a-kind V-shaped hood architecture, which efficiently directs hot air away from the drivetrain cooling system.
At the back of this Model S, the rear fascia features a designed high-downforce decklid mounted spoiler. Mid-chassis air is directed across the carbon fiber accents stretching between the taillights. Saleen diffuser boosts further the aerodynamic downforce capability of the vehicle.
What drives the FOURSIXTEEN is the three-phase, four pole AC induction motor and copper rotor with the upgraded Saleen drivetrain. The latter includes new 11.39:1 final gear ratio for quicker acceleration.
Another innovation is the MAXGRIPTM locking differential, which is specific for the tuning company and which allows each wheel to efficiently apply rotational force and maximize traction and grip during performance. Saleen's high-efficiency drivetrain cooling system ensures that the electric motor works in the appropriate temperature. This system comprises of a larger volume radiator, upsampled cooling fans, and a high-flow water pump.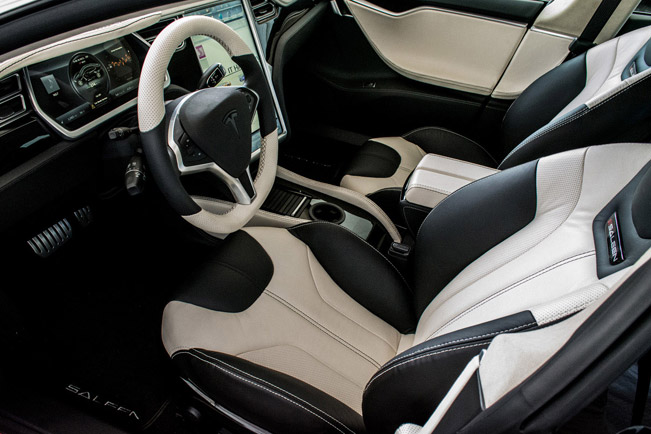 Furthermore, a specific S4 track-calibrated suspension which features a monotube coilover, works in conjunction with an S4 sway bar setup. All in all this improves cornering agility without sacrificing ride quality. The Stability Control System has been also enhanced via software change.
Saleen-specific brakes have been also included in the modification, which work together with the stability control software, wheel, tire, and S4 suspension system. The standard brake package features 14" 2-piece aluminum hat vented rotors and multi-piston front calipers with performance brake pads. FOURSIXTEEN rides on specifically Saleen designed wheels, which are coupled with ZR-spec tires.
Inside, the tuning company has also made changes. From the handpicked leather palette to the carbon fiber dash accents, the cabin is more luxurious than ever. The seats are wrapped in black leather that features contrast perforated leather accents and Alcantara suede inlays. A new center console has also been integrated into the interior redesign.
To go further into details, the front and rear seating have been remolded in ordered to produce four full bucket seats. Saleen's tailor-made door panels and a full leather-wrapped dash complimented with hand sewn contrast stitching as well as the black leather seat shells finalize the interior enhancement.
Saleen FOURSIXTEEN Tesla Model S has a starting price of $152,000 USD.
Source: Saleen Automotive