2013 SR Auto Ferrari 458 Italia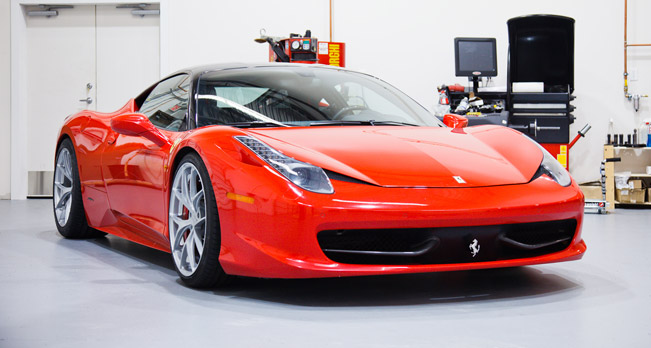 The next exciting project of the tuners from SR Auto team for this year is on the exceptional Ferrari 458 Italia. It is more than obvious that the specialists are keen on this Ferrari model, because this is another transformation done it.
The 458 Italia is equipped with four and a half liter V8, which delivers 570 horsepower (420 kW) at 9000 revs and 540 N/m (400 lb-ft) at 6000 rpm. In addition, the fact that the supercar, compared to other super sports cars, is a featherweight – 1380 kg, and it has a power-to-weight ratio of 2.42 kg/hp. This results in stunning acceleration from 0 to100 km/h in less than 3.4 seconds. Its top speed is of top 325 km/h.
What is more, in order to optimize the performance engineered by the designers at Ferrari, the tuning team maintained the factory wheel sizing with a slight twist. Collaborating with the team at PUR Wheels, together they have created a prime example of what they call "factory flush". The set of PUR 4OUR below have been engineered to adapt to the factory tire sizing while resting perfectly below the edge of the fender.
Source: SR Auto