SR Auto Lamborghini Murcielago SV with PUR Wheels
SR Auto have done it again – it's white, Italian, all-wheel-driven, has PUR wheels on it and it's called a project. Project White Wing to be exact. It's a Lamborghini Murcielago SV and in all honesty, as soon as we saw the pictures, a certain endearment took us over. It's not often we read news about Mercielagos, let alone SVs (which means SuperVeloce or SuperFast).
Let's not let's not lie to ourselves, those Aventador predecessors still need some of the spotlight. That's why SR Auto have taken up on contacting PUR Wheels and acquiring two PUR 2WO Monoblock 19-inch wheels for the front and two 20-inch of the same sort wheels for the back. Guess sometimes it's the subtle changes that make the difference.
The Lamborghini Murcielago LP 670-4 SuperVeloce was the most powerful bull of the line ever produced. It was the last model to join the family as well – a sort of a grand goodbye party. It's V12 engine's power was pumped up to 670 hp which meant that it's carbon fibery body was capable of accelerating to 62 mph (100 km/h) from a standing start in just 2.9 seconds. Those wheels will have to work for their lunch.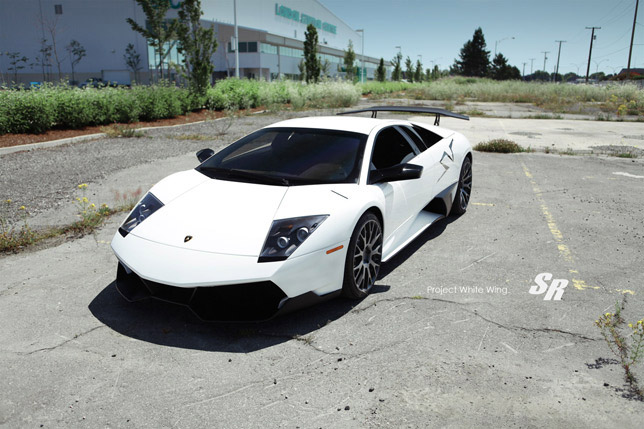 SR Auto White Wing Lamborghini Murcielago SV
Source: SR Auto