SR Auto Porsche Panamera GTS - Project Crimson Crusader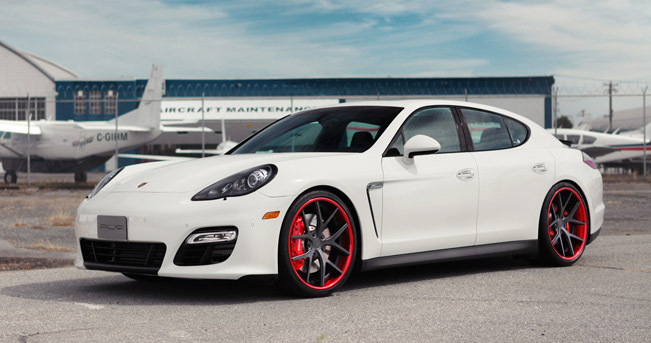 SR Auto Porsche Panamera GTS Crimson Crusader is another astonishing tuning from the fellows from SR Auto. This time the emblematic Porsche model is equipped with outstanding Davinci Red PUR Wheels.
Not only this high contrast between the crimson color and the white exterior is breathtaking, but it also aims to bring a bit of color back to the wheel industry. After the successful SR Auto Ferrari 458 Italia – Project Ice Blade, it was more than obvious that contrasts in color are much appreciated.
The platform for this second rendition is the unique Porsche Panamera GTS. The latter is powered by a 4.8 liter naturally-aspirated V8 which generates 430 hp (316 kW) at 6700RPM and 520 Nm (385 lb-ft) at 3500RPM.
The power is put on the road by 7-speed Porsche PDK gearbox through AWD system. Speaking about acceleration, this GTS runs from 0 to 100 km/h in only 4.5 seconds pursuing its top speed of 288 km/h (179 mph).
In terms of sizing and suspension, the tuners have also done some improvements. The car has been lowered, and that lead to the selection of an appropriate wheel size that would accommodate large wheel wells while maintaining a comfortable ride.
In particular, they have given this Panamera twenty two inch profile Modern Black Face, Davinci Red Lip PUR 4OUR DEPTH wheels paired with the Basics lowering system.
Source: SR Auto