SS Customs and Tesla Create One-Off TeslaVets to Celebrate Veterans Day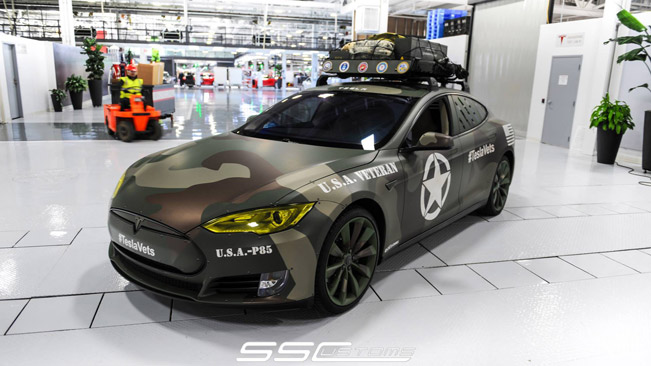 SS Customs told us that this current project we are presenting to you is on of their most favourite. It is called TeslaVets project and it is based on the superb Tesla Model S. The custom design of the car was created in house with the Tesla's collaboration. The reason: both companies are honoring Veterans Day (11th of November) and those who have supported their country. And this is a great expression of a heartfelt "Thank you".
In July, the electric car manufacturer released information that it has a goal of becoming the top employer for veterans in the United States. In fact, already about five percent of the staff are veterans, and there is this tendency of additional 600 people to be hired in the near future.
The California-based company has just unveiled the tuned car via its official Facebook page via a bunch of pictures. As we see they show a Model S, dressed up in a special wrap. Of course, it was all done by the specialists at SS Customs. The Camo vinyl wrap was hand cut and then hand applied.
To match the perfect new exterior appearance of the vehicle, the tuners decided to add one off powder coated green 21 inch Model S wheels and Yakima roof basket on whispbars with full Armed Forces regalia. Note also the yellow tinted headlights and the typical military equipment mounted on the custom-made roof rack.
Tesla Model S is the most successful electric vehicle with a rear wheel drive. It is powered by a liquid-cooled powertrain, which includes the battery, motor, drive inverter, and gear box. The total power is rated at 416 hp (310 kW) an 600 Nm (443 lb-ft) of torque, while the range of the car is around 450 km.
Source: SS Customs via Facebook