STaSIS Signature Audi S4
STaSIS now offers a tuning program for Audi S4. There are two choices for the owners of the sports saloons - Touring Edition and Challenge Edition.
STaSIS Audi S4 Touring Edition comes with 410BHP and 500Nm (370 lb-ft), a new exhaust system, bigger brakes with high-performance street pads, stainless steel lines and 20" wheels. Touring Edition also features lowered suspension ( 1 inch ), an anti-roll bar kit and matched bushings and bump stops.
STaSIS Audi S4 Challenge Edition has everything, which Touring offers plus Ohlins SL dampers, new brakes with 6-piston Alcon monobloc calipers, 370 mm 2-piece discs, stainless steel brake lines and high-performance pads and a high-bias center differential for the manual gearbox version.
STaSIS package starts at 12 500 GBP.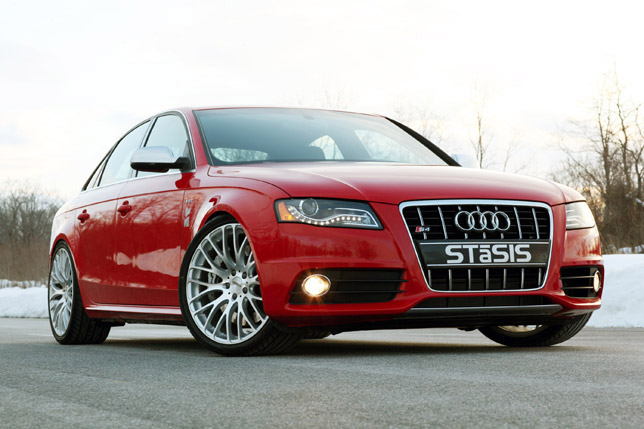 Signature S4 Touring Edition
Exhaust - Quad outlet with tunable low RPM resonators
Engine - Engine Tuning Software – performance increases to 410 bhp / 370 lb.ft
Suspension – 1 inch lower, Increased spring rate, anti-roll bar kit and matched bushings & bump stops
Brakes - Optional high-performance street pads and braided stainless steel lines
Wheels – 20 inch x 8.5 inch lightweight cast aluminum wheels, Optional 19 inch x 9 inch lightweight cast aluminum wheels
Tyres – High performance
Signature S4 Challenge Edition
Exhaust - Quad outlet with tunable high RPM resonators (recommended for manual transmission)
Engine - Engine Tuning Software – performance increases to 410 bhp / 370 lb.ft
Suspension - Ohlins SL dampers, increased spring rate and high performance anti-roll bar kit
Brakes - 6-piston Alcon monobloc calipers, 370 mm 2-piece discs (390-mm optional), stainless steel brake lines & high-performance pads
Differential - high-bias centre differential (manual transmission only)
Wheels – 20 inch x 9.5 inch ultra-lightweight forged aluminum wheels
Tyres – extreme performance
STaSIS Signature S4 Performance Specifications:-
| | | | |
| --- | --- | --- | --- |
| | Factory | STaSIS Touring Edition | STaSIS Challenge Edition |
| Power: | 333 bhp* | 410 bhp | 410 bhp |
| Torque: | 344 lb.ft | 370 lb.ft | 370 lb.ft |
| 0-60 mph: | 4.9 sec | 4.5 sec | 4.5 sec |
| Lateral accel': | 0.86 G | 0.92 G | 1.0 G |
| Brake decel': | 0.90 G | 0.95 G | 1.0 G |