2016 Audi S4 Avant Debuts Today at 2015 FIAA! [VIDEO]

Audi will present the latest S4 and S4 Avant models at the 2015 FIAA in Frankfurt. The models are constructed to deliver flexibility, light weight and of course, tons of gadgets. So, let's see what is going on in the Audi camp and let's find out what could we expect at this year's FIAA.
Drivetrain System
The latest Audi models come with an especially created V6 unit with petrol direct injection and turbocharge system. It is a 3.0 TFSI engine which provides a total of 354 hp (260 kW) and 500 Nm of torque and it is paired to a new eight-speed tiptronic transmission. This system outstrips its predecessor in every aspect and now it is even built with light-weight materials.
This system allows the S4 to go from 0 to 100 km/h (0 to 62 mph) in 4.7 seconds and from this start it can chase the top speed, electronically limited to 250 km/h (155 mph).

And along with the drivetrain and the gearbox, the S4 and S4 Avant models also offer and impressive straight-line stability via the redesigned suspension. The five-link system on the front and rear axle separates the longitudinal and transverse forces, ensuring maximum handling and flexibility in every road situation.
Design
The latest S4 models has a lot to demonstrate, when it comes to design and style. At the front, the Singleframe grille and the nicely done horizontal lines enhance the feel of massiveness and width. Furthermore, the bumpers and the air inlets are completely reshaped and many of the additional parts are now painted in graduated matt gray and chrome colors.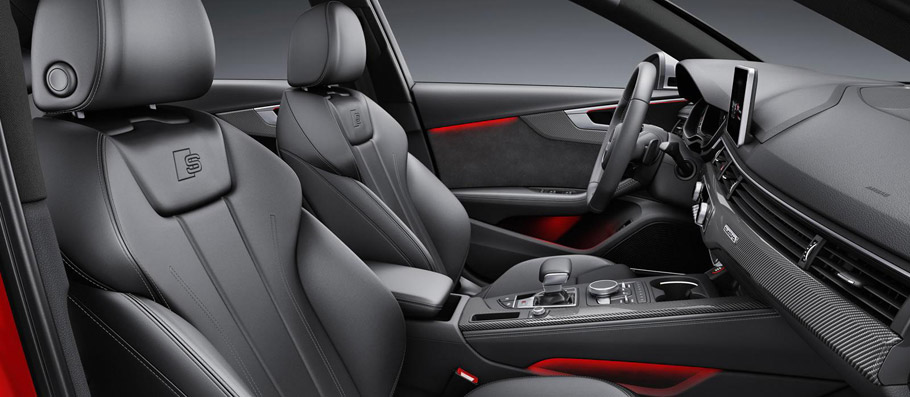 Source: Audi