Techart Porsche Targa 4 in Lime Yellow [Yes or No?]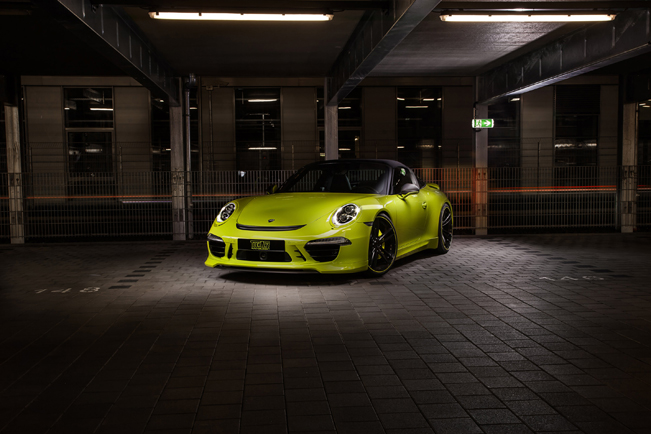 2014 Porsche 911 Targa 4 model debuted at the beginning of the year at the Detroit Auto Show. And as we remember it, we get genuinely excited being a reinterpretation of a classic. Now Techart is ready to show us its take on the car through (as they say) sharpening its character. They have created an aero kit, dedicated wheels and unique interior! Starting with the aerodynamic kit, the Techart's Targa 4 receives wide body with active taillight strip and of course a glass roof with iconic aluminium bar. The kit was made of lightweight fibre composite of carbon and polyurethane RIM, and its characteristics include high levels of load-bearing capacity and dimensional stability with a low tare weight.
Next, it also adds two-part front spoiler I with integrated splitter drags, which serves in terms of lowering the vehicle. It is combined with new rear spoiler II wing profile and new diffuser add-on. Going further, we can't miss the aero wings, which are integrated into the front air inlets, and create a dynamic shaft outline. They work in concert with the air outlet grille at the front apron.
911 Targa 4 also get exclusive alloys, which are called Techart Formula IV light-alloy wheel and that come in five-twin-spoke design. They are offered in 20- and 21-inch size in various colors. The tuners also offer suspension options for the car. The sport spring kit brings the vehicle closer to the asphalt, while the noselift system generates an additional 45mm of ground clearance by lifting the vehicle level at front axle.
Exhaust systems sport and sport muffler racing deliver the acoustic performance of the Porsche 911 Targa 4 models with a touch of a button. The valve-controlled system can be used even when closed under full load across the entire speed range.
Inside, this Porsche gets enhanced with in-house saddlery. The illuminated aluminium door entry guards, the ergonomically shaped thee-spokes multifunctional sport steering wheel with paddle shifters and aluminium sport pedals are all there. The company ha also provided aluminium foot rest, decorative stitching, backrests for sport seats plus in leather, safety belts. There is also the option of Techart Carbon Interior Styling Packages.
Source: Techart