The 10 Most Stolen Cars in the US - 2013 [video]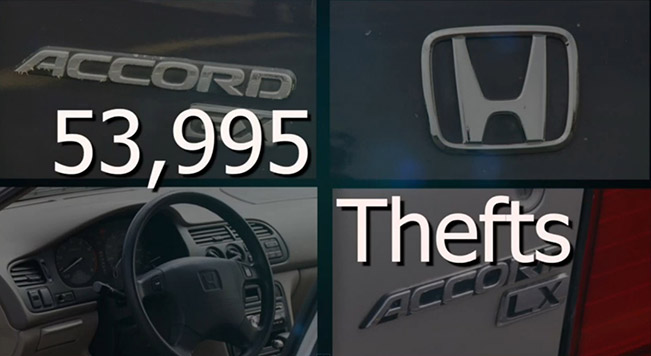 The first two places of the 10 most stolen cars in the US during 2013 are occupied by Honda models – Accord and Civic. Insurancenewsnet report that totally 53,995 Accords and 45,001 Civics have been stolen last year.
Unsurprisingly, the next two places (3rd and 4th) are occupied by Pickup trucks – Chevrolet and Ford. On 5th place is Toyota Camry and on 6th – Dodge Pickup. The 7th place is taken by Dodge Caravan, while the 8th is for Jeep Cherokee and Grand Cherokee. On the last two places are Toyota Corolla and Nissan Altima, respectively. Check out the full list - below!
As you can see, the expensive Mercedes-Benz, BMW and Audi cars are not  in the wish list of thieves. So, if you want to find the your vehicle wherever you parked it – buy a BMW… or Mercedes-Benz.
p.s. The list was completed by the National Insurance Crime Bureau (NICB) and the data was supplied by law enforcement to the National Crime Information Center (NCIC).
Top 10 stolen vehicles in America
| | | |
| --- | --- | --- |
| 1. | Honda Accord | (53,995) |
| 2. | Honda Civic | (45,001) |
| 3. | Chevrolet Pickup (Full Size) | (27,809) |
| 4. | Ford Pickup (Full Size) | (26,494) |
| 5. | Toyota Camry | (14,420) |
| 6. | Dodge Pickup (Full Size) | (11,347) |
| 7. | Dodge Caravan | (10,911) |
| 8. | Jeep Cherokee/Grand Cherokee | (9,272) |
| 9. | Toyota Corolla | (9,010) |
| 10. | Nissan Altima | (8,892) |