Toyota Camry Comes of Age
The Australian-made Toyota Camry has officially come of age by celebrating its 21st anniversary. Since the first Camry rolled off an Australian assembly line in 1987, more than 1.3 million have been produced in this country.
This makes Camry the most successful vehicle Toyota has produced in 45 years of local manufacturing, which began with Tiara in 1963.
Camry accounts for more than half the 2.5 million vehicles produced by Toyota in Australia. A production record of 111,891 cars was set last year.
This year Camry is also celebrating another milestone - 25 years of sales in Australia with versions imported from Japan being marketed as early as 1983.
Today, all Camry cars sold in Australia are produced at Toyota's manufacturing plant at Altona in Melbourne's west.
Camry is exclusively powered by a locally made four-cylinder engine and is now in its 15th year as the best-selling car in its class.
Camry is Australia's top-selling export model with approximately 85,300 shipments last year to more than 20 countries.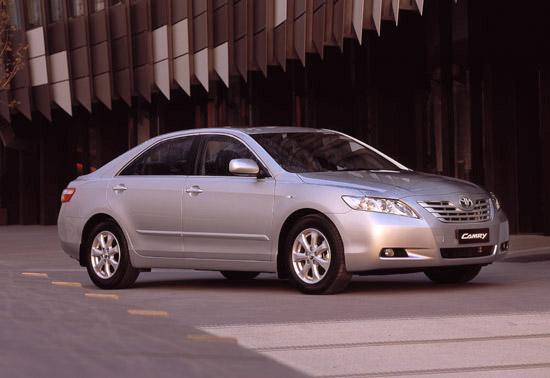 It will also spearhead a new era for the local car industry from 2010 when Camry will become the first Australian-built hybrid car.
Toyota Australia's senior executive director sales and marketing David Buttner said only two other nameplates had a longer production history in Australia.
"Camry has achieved remarkable popularity with local and export buyers over an extended period," Mr Buttner said.
"It has evolved successfully through six generations with new technologies that have kept it at the forefront of the industry," he said.
"We have also been able to increase local input into the design and development of what is truly a world car.
"As a result, Camry continues to meet the demands and expectations of Australian customers.
"The hybrid version we will build here from 2010 will add another significant dimension that will underline Camry's leadership role in the local industry."
Toyota's Altona factory is one of seven plants around the world where Camry is manufactured. Total global production of Camry exceeds 10 million cars.
All Australian-produced Camry models are equipped with a fuel-efficient 117kW 2.4-litre engine with variable valve timing technology.
Standard safety features include vehicle stability control, traction control, anti-skid brakes with Brake Assist and Electronic Brakeforce Distribution, twin front airbags and the availability of four more airbags.
Factory-fitted air conditioning with pollen filter is also standard along with cruise control, power windows and mirrors, remote central locking and a security alarm.
Recommended retail prices start at $28,490