Toyota develops world's first rear window curtain shield airbag
Toyota announced today that it has developed the world's first* SRS (Supplemental Restraint System) rear window curtain shield airbag to protect rear passengers' heads in the event of a rear-end collision.
The innovative airbag deploys from the roof lining above the rear window in the form of a curtain-like barrier. Together with the headrests, the airbag minimises impact to the head from a colliding vehicle or parts of the hit vehicle, thus helping to reduce the severity of injuries. Its use in the soon-to-be launched "iQ" ultra-compact four-seater is expected to approximately double the car's rear passenger head protection performance.
Toyota has continued to actively develop and make available its collision safety technologies – resulting in such achievements as the swift market introduction of SRS curtain shield and knee airbags – to enable its vehicles to better respond to a greater range of accidents.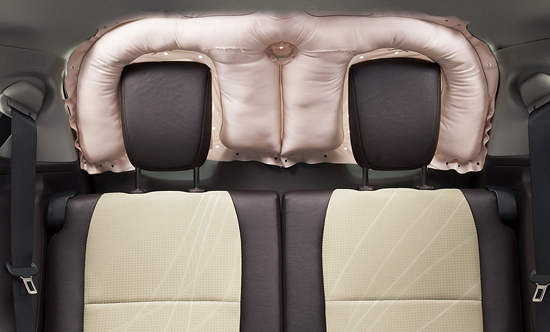 As a part of its efforts to realise sustainable mobility, Toyota intends to strengthen its traffic safety initiatives in the future through: 1) the development of even safer vehicles and technologies; 2) participation in the creation of a safe traffic environment and 3) activities designed to educate people on traffic safety, thereby contributing to the complete elimination of traffic casualties, which can be viewed as the ultimate hope of a society that values mobility.
*According to TMC research, as of September 2008