Toyota iQ: six degrees of innovation - No3
Innovation No3: the Flat Under-floor Fuel Tank
The third instalment in Toyota's series of cut-paste-and-print guides to the ground-breaking design and engineering features behind the new iQ reveals details of the car's flat under-floor fuel tank.
The usual place for a car's fuel tank is beneath the rear seats, but in the compact interior of the iQ this would make it impossible for Toyota to achieve its goal of a sub-three-metre long car with four seats. The solution was to create a flat fuel tank, positioned beneath the vehicle floor.
This was no simple task, requiring a number of fundamental engineering challenges to be met. Traditionally a flat fuel tank has been considered too difficult to design, because of the variance in fuel level that would occur, for example when the vehicle is parked on a slope.
Toyota persevered with its efforts to make the tank smaller and calculate the optimum location of its functioning parts. A horizontal fuel pump was successfully developed, and the fuel level indicators were positioned in the centre of the tank to ensure a consistently accurate read-out is given.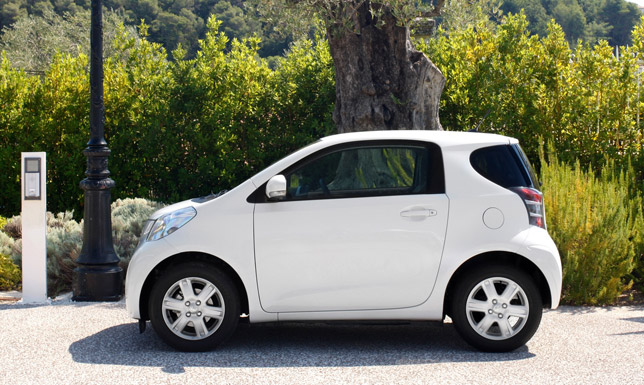 The result is a flat fuel tank, just 120mm tall. Its size and shape mean it can be located under the floor, which not only frees up more cabin space but also gives iQ a lower centre of gravity, contributing to its excellent stability and fun-to-drive character. It also allows the rear wheels to be placed 440mm further forward, with shock absorbers cleverly angled backwards to prevent any encroachment on the rear seat space.
The space in the rear of the cabin that would usually be taken up by the fuel tank makes room for two seats – the one behind the front passenger suitable for an adult, the other, behind the driver, for a child or for extra luggage space. There is extra concealed storage beneath the seats, while the seats themselves can be individually folded down to create more luggage room.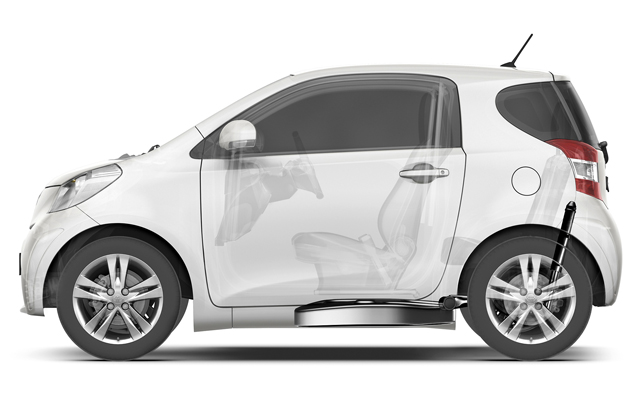 The fuel tank has a 32-litre capacity, enough to give iQ a driving range of more than 430 miles.
Coming next: Innovation No4 – Space-saving air conditioning unit.
Innovation No1: The front-mounted differential
Innovation No2: The Centre Take-Off Steering Gear.
Innovation No4: the Space-saving Air Conditioning Unit
Innovation No5: the Asymmetrical Dashboard