Updated 2015 Lexus RC F Delivers Performance For All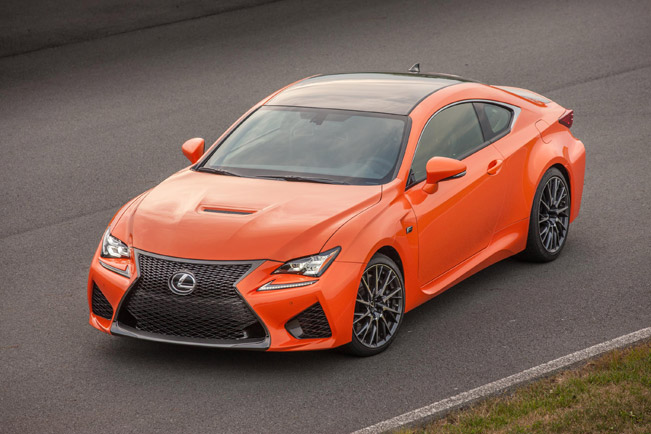 2015 Lexus RC F made its global premiere at NAIAS event in the beginning of the year. Now the coupe is ready for launch before the end of the year in the United Kingdom with customer deliveries from January 2015. This is the most powerful production V8 coupe the company has ever produced. The car features contemporary styling combined with thoroughbred performance, handling and advanced new technologies. In the UK this Lexus will be launched in two versions RC F and the RC F Carbon.
If you have ever wondered what's the meaning of the "F" designation in car's name, well it denotes Fuji Speedway, the Japanese track where Lexus carries out much of its high-speed product testing. The key ingredient for this performance is the 5.0-litre V8 engine. It produces 471 hp (346 kW) and 530 Nm (390 lb-ft) of torque.
The unit is coupled with a significantly upgraded eight-speed Sports Direct Shift transmission that gives the driver a choice of five operating modes, from fuel-efficient Eco to full-blooded Sport S+. 2015 RC F covers the 0-62 mph (0-100 km/h) sprint in 4.5 seconds and can reach a top speed of 168 mph.
The RC F also received a revision in terms of Vehicle Dynamics Integrated Management system due to the addition of the new Sport and Expert settings. They allow the driver safely exploit the car's full performance capabilities.
In addition, the coupe has been engineered to offer exceptional grip, agility and high-speed stability with chassis, brakes, steering and suspension. Precisely, the handling features active rear wing and Torque Vectoring Differential.
Many of the body elements are made of carbon fiber for improved lightweight. We should also note the clever instrumentation that automatically changes display with different driving modes and a stirring engine note, project into the cabin through an Active Sound Control system.
Throughout the United Kingdom, 2015 Lexus RC F will be offered in two versions: RC F with a starting price of £59,995, and the RC F Carbon – with a price tag beginning at £67,995.
Source: Lexus