VATH Takes on the Mercedes-Benz AMG SLS Roadster
The Mercedes-Benz SLS is an AMG engineering pinnacle. A completely separate project which managed to fit all of the company's prowess in a single car. Under it's hood there hides an AMG enhanced Mercedes-Benz V8 engine that spurs out 563 naturally aspirated, rampaging horses. Obviously, that doesn't work for the guys at VATH who have taken a SLS and made it a bit over the top... although there really isn't any top. It's the VATH Mercedes-Benz AMG SLS Roadster.
What's the first thing they did? Slot in a supercharger of course. How did that affect the performance? 690 hp and a 0 to 100 km/h time of 3.6 seconds. The supercharger however, is not the only force at work here. VATH have also changed the air box, remapped the engine electronics and enlarged the transmission's oil cooler.
The newly equipped brake discs that measure up to 405 mm and have extremely robust steel flax lines will be good enough to handle 850 Nm of torques coming through, right? Zoom out a little and you'll find three piece forged VATH 9.5x20-inch wheels with a set of tires of the following dimensions: 265/30-20 on the front and 315/25-20 – on the rear axle (the wheels there are 12x20-inch). Another handling highlight are the threaded sports springs which lower the stance with 20 – 45 mm, yet work in a complete unison with AMG's Ride Control. The shock absorbers on the other hand, are height and hardness adjustable.
It goes without saying that some carbon fiber has been used as well. Shamelessly naked carbon fiber front spoiler, trunk spoiler and side skirts all add to the appeal. You can hove some inside as well as an option. If not, you still get a leather/leather combination, a sporty steering wheel and a speed counter that's been increased to 400 km/h.
It is evident then, that VATH have been hard at work. That's exactly why the complete programme will cost you. 85.130 Euros ($104.097) to be precise.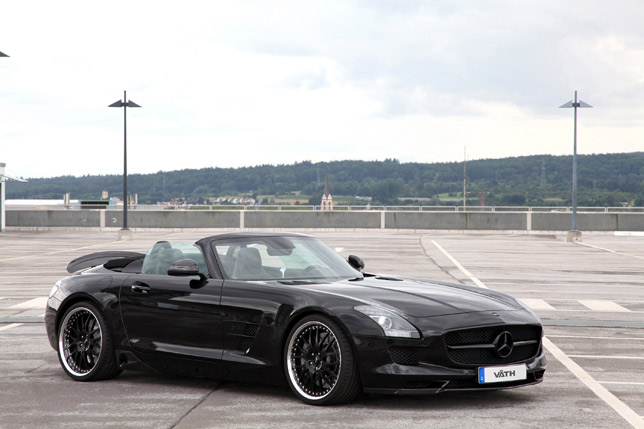 Source: VATH