VÄTH Has a Power Package for Open-Top Mercedes-Benz E500

Mercedes-Benz E500 Cabriolet has just received a special treatment by the specialists at VÄTH. The so called power package has been specifically created for the open-top German vehicle. The black E500 Cabrio also got interesting exterior modifications as well as some goodies for its interior.
Is This Really a Power Package?

The answer is definitely "YES", since this car has been taken out from its stock configuration. The first thing we should praise is the top speed extension, thanks to which the car now reaches and even goes beyond 300km/h.
SEE ALSO: More Powerful Mercedes S500 But More Efficient, is it Possible?
Thanks to the V50RS tuning-kit that made possible the fine-tuning of engine electronics, the in-house charge-air cooling system and VÄTH's rear silencer system, the V8 under the hood can now show some envious power. Instead of its stock horses and Newton meters, it now generates more than 550 hp (404 kW) as well as 830 Nm of maximum torque.
Other Goodies

Some might think that the other goodies account for better looks. However, we have to assure you that they also contribute for much better driving experience. After all, VÄTH has just improved the horsepower of the V8!
First, the rear silencer system was made of VA-stainless steel and features flap control system and two oval tailpipes in 115 x 85 mm on both sides. Flanged edge tailpipes, rear diffuser of carbon with fins and larger underbody were also installed.
The Mercedes on the pictures seems a little bit lowered and this is due to the 30 mm lowering carried out by set of springs. The braking system is also different from the stock one: here we have VA 6-piston brake callipers with high-efficiency coating, which bite into potted 390-mm-brake discs and brake fluid Castrol SFR.
Wheels & Tires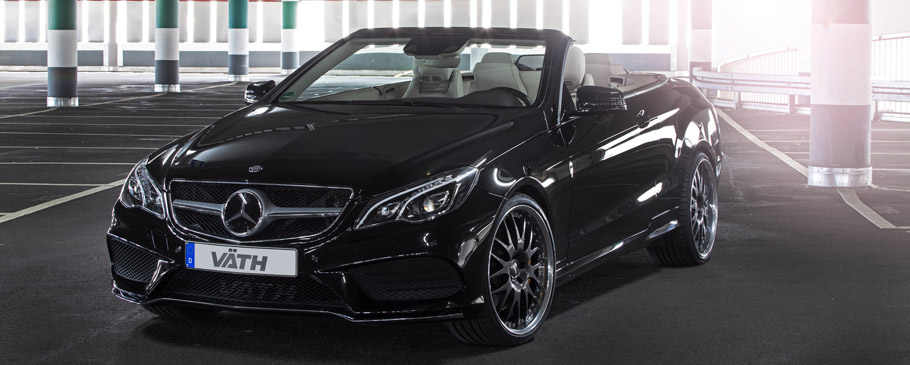 The new brake system couldn't go without new wheels and tires combination. The added rims come in size of 8.5x20-inch and are fitted with tyres in 235/30R20. This counts only for the front. At the rear, the E-class got 10x20-inch alloys with 275/25R20 rubbers.
At last, rounding out this unique tuning are the trunk lip spoiler made of carbon fibre as well many accessories for the interior like the sports steering wheel and aluminium pedals.
Source: VÄTH via Miranda Media