Vauxhall Goes To Rio With Astra Copacabana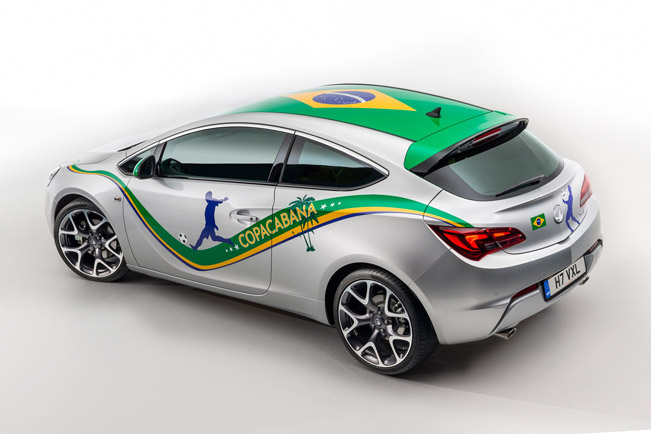 Just like the MINI Paceman GoalCooper, Vauxhall has just unveiled the new Astra Copacabana that celebrates this year's FIFA World Cup. It has the Brazilian flag on its roof, while palm trees, dancing lines and silhouette of football players all along its doors.
The vehicle is based on Astra GTC and under its bonnet has the 1.6 Turbo litre engine, which offers more drama due to the capability of 200 horsepower (147 kW). The car needs only 2.6 seconds to cover the accelerations sprint from 0 to 60mph.
Inside, the interior sports unique upholstered from genuine Rio turf seats. In fact, the coupe is an example of craftsmanship: Vauxhall's interior designers successfully processed original grass from the famous Maracanã Stadium and put it inside. What is more, every car comes with a certificate that proves the authenticity of the sacred greenery.
The footwells has also received unique treatment. They were filled with finest sand from the Copacabana beach. In addition, each special edition comes with a handy pair of flip-flops in the glove compartment.
The car will be offered in a choice of Samba or Vuvuzela tones, and will be equipped with a beverage vending machine that mixes up ice-cold Caipirinhas during the drive (alcohol-free of course). Vauxhall Astra Copacabana is currently on sale.
Source: Vauxhall