Vorsteiner with Minor Updates for the BMW 4-Series

This beautiful Estoril Blue BMW 4-Series has received a minor update. Despite the fact there aren't many changes, the car looks so beautiful that we couldn't just skip it and not show it to you. The tuner behind this project is the California-based company Vorsteiner. These guys are very clever for choosing a German name and working mainly with European cars, aren't they?
So, the first thing to mention about this BMW is its exterior color. Although, the Estoril Blue paint scheme comes as a standard from the factory, this does not makes it less attractive. In fact, I have always thought that the color is more typical for the M-series, but one could always learn, right?
SEE ALSO: Vorsteiner's Lambo Zaragoza Shows-Off with Aero Wing 
If you do expect that the American tuner has changed the engine, well I will disappoint you. What is promising however are the numbers produced as a standard by this BMW's powerplant. It generates 300 untamed horses (223 kW) and a maximum torque of 406 Nm (300 lb-ft).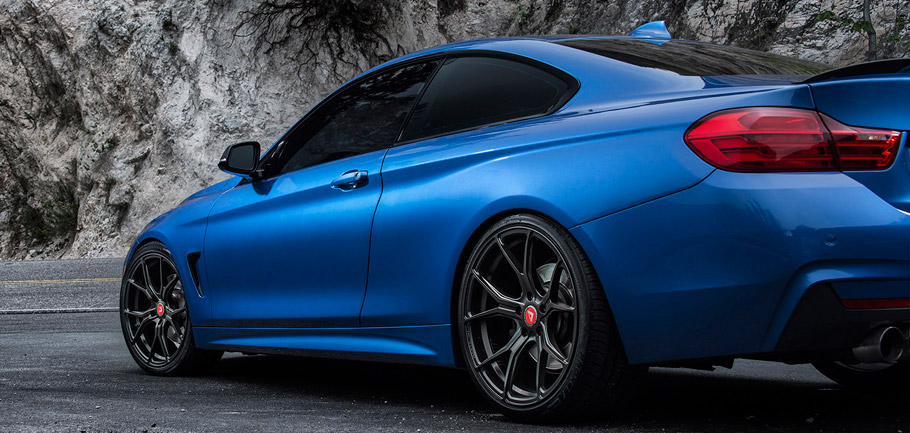 But if you ask about the changes featured here, well it's not much, but it is still very inspiring, because of the new and more powerful stance it gives the car. All right then. It's only the wheels.
They have been made with the help of a special flow forged technology and come in this exquisite Carbon Graphite color. The design scheme features double five spokes, and the dimensions are different at the front and at the back.
Up front, the wheels come in the size of 20x8.5 inches and are fitted with Pirelli P Zero tires in the size of 245/30/20. While at the rear, Vorsteiner has chosen 20x10 inches for the wheels and 275/30/20 for the Pirelli tires. Nice car to drive to the sunset with, isn't' it?
Source: Vorsteiner