Vorsteiner BMW M4 Gets EVO Aero Kit

Vorsteiner BMW M4 EVO Aero is the last one of the four Bavarians featured today. Next to the M4 Convertible, X6 and the 7-Series, this one will make the perfect cream of the joke. What is so special about it? Well, I like simplicity and the fact that it looks stylish enough. It has also has been revealed through several very good pictures, which you can view below.
Not to mention that it is an M-Series, meaning that it has to offer 425hp coming from its twin-turbo inline six-cylinder engine. The unit is connected to a paddle-shifted seven-speed automatic that drives the rear-wheels. Furthermore, the M4 is originally made with a lot of carbon fiber infused in it, including the driveshaft, so this makes it even more attractive.
Vorsteiner's EVO Aero Program
Just like mbDESIGN's M4 Convertible, this one comes out from the factory in Mineral White metallic exterior colour. So basically, this was the starting point of the tuners at Vorsteiner, who immediately decided to add an EVO Aero Program. Oh, and there are also some black graphic elements featured on the hood.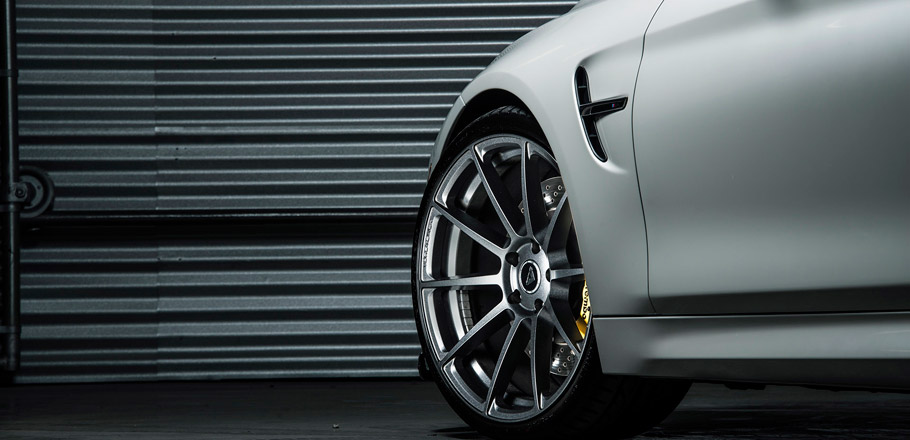 The aerodynamic enhancements comprise of aero front spoiler and Evo Deck Lid spoiler. The latter comes in contrasting black, and it is also good to mention that both parts have been made from lightweight carbon fiber.
SEE ALSO: Vorsteiner with Minor Updates for the BMW 4-Series
There are two other additions to the package: the GTS diffuser and exhaust tip set that will make the V6 under the hood of the M4 sound uncompromising. The last touch, added by the Californian-based studio is the wheels. They are 20-inch big, multi-spoke and come in Carbon Graphite.
How many BMWs would you like to see daily featured on our site? I know it is never enough when it comes to Bavarians but specifics would be appreciated. Stay tuned and get involved!
Source: Vorsteiner