Vorsteiner Releases One-Off Aero Program for BMW M4 F8X

This Frozen Gray BMW M4 F8X is a very special edition of the model and this is due to the additional treatment it has received from the California-based customization company called Vorsteiner. The tuners have released aero program, which has been specifically developed for the M4, being one of BMW model range's most highly respected automotive platforms.
We must also remind you that the BMW M4 does not joke when it comes to power.  Driven by its potent 3.0 Liter BMW TwinPower Turbo engine, it produces 425 horsepower (313 kW) and allows the vehicle to accelerate from standstill to 100km/h in just 4.1 seconds. Top speed is electronically limited to 155mph (250km/h). And this is the reason why many regard it as the best mid-range luxury performance coupe on the market today.
SEE ALSO: Vorsteiner Releases Aero Program for Mercedes-Benz E63 AMG
To go into details, the aero kit comprises of the following components that have been all made in-house: V-FF 102 Flow Forged wheels, EVO Front Add-On Spoiler, GTS Rear Diffuser and EVO Rear Decklid Spoiler. The last three parts were made out of autoclaved 2×2 Pre-Preg Carbon Fiber and come with UV Inhibiting Clear Lacquer Coating for added protection. But if you are keen on seeing the fibers of the carbon, then you can order these parts in fully visible carbon fiber weave. And this will undoubtedly make your BMW look unique.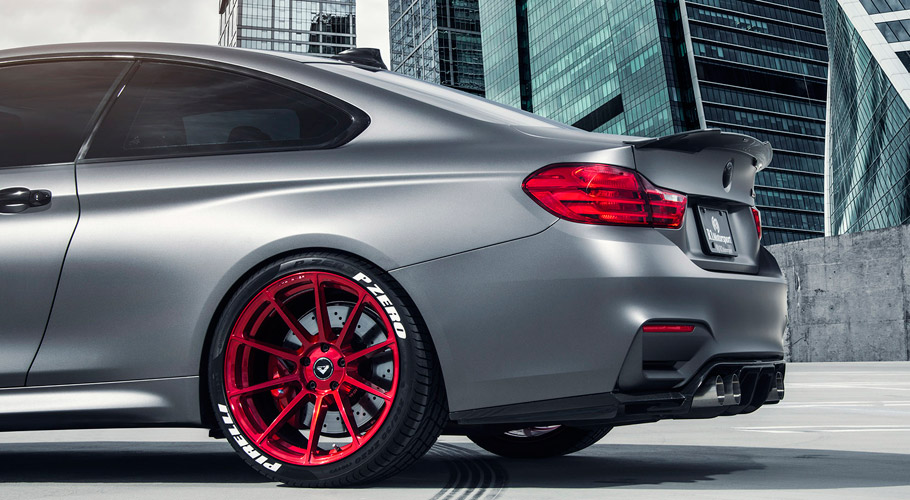 At last but not least, we must say something about the highly contrasting Candy Apple Red wheels, since they are the first thing about this project that grabs the attention. They are of the Vorsteiner V-FF 102 model variant and have been custom painted. This is probably the best color, which accentuates the Frozen Gray exterior scheme of the BMW M4. In terms of size, the V-FF 102s come in 20×9.5 at the front and 20×10.5 at the rear. Due to their lightweight and contemporary multispoke design, they make a perfect accentuation touch for this M4's aero outfit.
Source: Vorsteiner