Vorsteiner V-GT Tuning Program for the Porsche 991 Carrera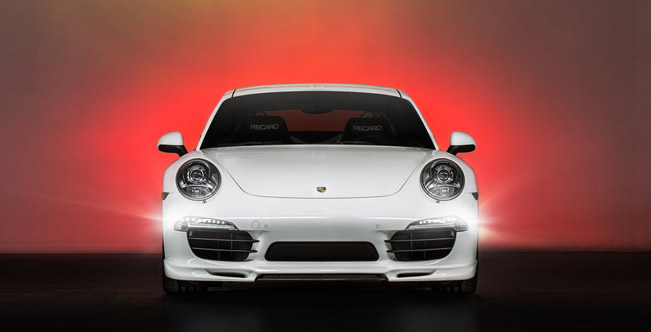 Do you remember when the Vorsteiner Porsche Carrera 911 V-GT came out of the dark a month ago? Now, the tuners from Vorsteiner are revealing additional details and more pictures around this incredible car. They have added more style to the Porsche while at the same time enhancing its performance.
First, the V-GT front spoiler was designed by Vorsteiner engineers with functionality at its core with its dual integrated brake duct cooling ducts and GT center splitter made of carbon fiber.
Secondly, the V-GT composite lightweight front spoiler comes at the place of the factory black plastic unit and attaches to the OE front bumper using original factory clips and mounting holes for a simple and clean install. The center GT splitter is also replaceable being separate from the main spoiler unit.
Thirdly, the V-GT side skirt attachments balance the lines of the new front and rear fascia, whili continuing to be functionality purposeful. The side skirts include an optional integrated carbon fiber blade sill extension that further assists with downforce.
The most attention grabbing design element here however, is the V-GT's rear diffuser. What it does is to attach the original attachment points of the factory black plastic unit. Still, it has integrated fin design that extends all the way underneath the underbody of the vehicle. Here the V-GT front spoiler creates additional downforce and is counter balanced in the rear with this diffuser panel.
At last but not least, the V-GT rear deck lid spoiler is what rounds-off the perfect blend of functional aerodynamics and beauty. It is made of lightweight carbon fiber and is mounted to the factory mechanical wing riser aiding further in downforce.
Vorsteiner Porsche Carrera 991 V-GT tuning program consist of:
• Front Add-On Spoiler with integrated brake duct collectors Carbon Fiber Pre-Preg Autoclave
• Front GT Replaceable Center Splitter for additional downforce in Optical Carbon Fiber Pre-Preg Autoclave
• Side Skirt Panels with Integrated Carbon Fiber Blade Extension Element
• Rear Add-On Diffuser with Integrated Aero Fins Carbon Fiber Pre-Preg Autoclave
• Rear Add-On Ducktail Wing Spoiler Element Carbon Fiber Pre-Preg Autoclave
• 19, 20, or 21 inch forged wheels aluminum
• Vorsteiner custom embroidered floor mats and trunk mats with piping color options
Source: Vorsteiner