2011 Dodge Ram Runner Mopar
2011 Dodge Ram Runner Mopar is a specially modified vehicle, which is set to be the ultimate desert racer. Mopar performance division has introduced the Ram Runner off-road kit, which features some exclusive parts.
"At Mopar, our image vehicles showcase potential directions that we may take and the new Ram Runner kit is a good example," commented Pietro Gorlier, President and CEO, Mopar, Chrysler Group's service, parts and customer-care brand.
"We saw the reception that Ram Runner received last year and quickly moved to offer kits that will allow off-road enthusiasts to transform their stock Ram 1500 into a desert racer.", he added.
The Mopar Ram Runner Kit includes Pre-Runner Stage II Lift Kit, off-road front bumper, off-road front and rear fenders, off-road rear-tire carrier, sport performance hood and cat-back exhaust. Furthermore, each part can be purchased separately.
The stance of the pick-up is lifted with 35.6cm (14 inches).
However, the full kit costs around $20 000, excluding taxes.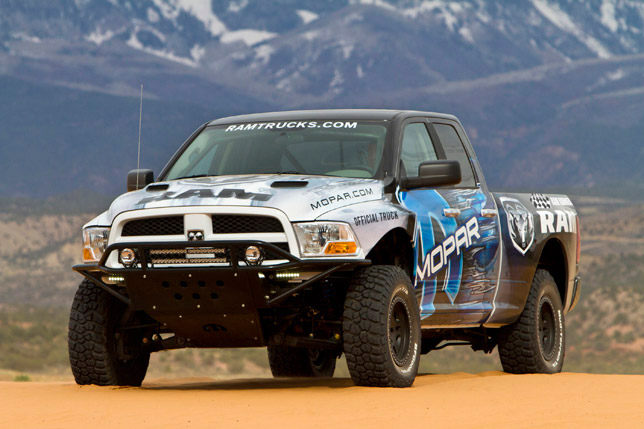 Mopar-First Features
Mopar has introduced numerous industry-first features including: •    Camper trailers: first to introduce off-road camper trailers •    Vehicle-information smartphone apps: first to introduce smartphone vehicle-information applications, a new channel of communication with consumers •    Electronic owner manuals: first to introduce traditional owner manuals in a DVD and brief user-guide format •    Electronic Vehicle Tracking System (EVTS): first to introduce new vehicle tracking system that sends owner a text when vehicle is driven too fast or too far based on set parameters •    2011 Challenger Drag Pak: first to introduce a 500-plus cubic-inch V-10 drag-race package car •    WiFi: first to offer customers the ability to make their vehicle a wireless hot spot •    Brand-specific customer care telephone lines: first to offer Sunday service hours for customers •    WiTECH: first to support vehicle diagnosis and software updates leveraging off-the-shelf personal computers and a dedicated wireless tool network
Source: Dodge