2012 Audi RS5 - UK Price £58 725 OTR
Audi has announced its V8-powered coupe flagship from A5 range – the 2012 RS5 mode, which is already available at the UK market. The prices start at "just" £58 725 OTR. The new RS combines new styling, mechanical and specification revisions with characteristically extreme performance from a high-revving 450PS V8.
Styling upgrades include a slight revision to the single frame grille design, sharper and more pronounced bonnet contours, new solid band wraparound LED daytime running lights and LED rear lights, new look front and rear bumpers and a new ten-spoke design for the 19" alloy wheels.
The interior benefits from Bluetooth mobile phone preparation, cruise control, DVD-based satellite navigation and Audi Music Interface iPod connection. The cruise control system can also now be upgraded at extra cost to the adaptive system with braking guard, which uses radar sensors to control distance from traffic in front of the car between 19mph and 155mph, and can also initiate partial braking or full deceleration if its sensors detect an impending collision.
Interior design changes extend to a new flat-bottomed RS three-spoke steering wheel and detail improvements to the air conditioning, Multi Media Interface, mirror adjustment and electric window switchgear, the gear lever and the instrument stalks. New look optional inlays are also now available.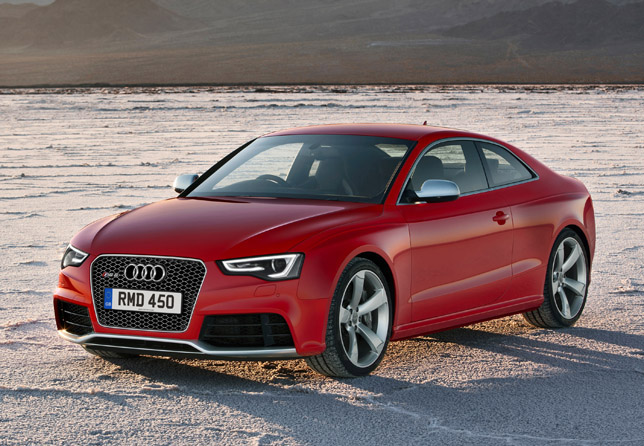 The engine is a naturally-aspirated 4.2 litre V8 with 450PS at 8250RPM and 430Nm at 4000RPM. 0-100 km/h in 4.5 seconds and a top speed of 250 km/h (155 mph) – electronically limited, which can be elevated to 174mph if the extra cost speed limit de-restriction option is specified. The fuel consumption is really low for such power – 26.9 mpg and CO2 emissions of 246 g/km.
Like all RS models, the RS 5 Coupé applies its power to the road with quattro permanent all-wheel-drive, which in this instance is further enhanced by the crown-gear centre differential that can vary the distribution of torque between the front and rear axles at lightning speed and over a wide range. Up to 70% can flow to the front or as much as 85 percent to the rear, as necessary. The default 40:60 ratio of the rear-biased configuration ensures sporty handling. The electronic stability program (ESP) also integrates a sport mode which ensures that it intervenes at a later stage. It can also be switched off entirely.
The optional Sport Package also includes larger 20" rotor design titanium-look alloy wheels, a sports exhaust system. It is priced at £2 250.
Source: Audi