2013 Audi A3 Sportback - €22,500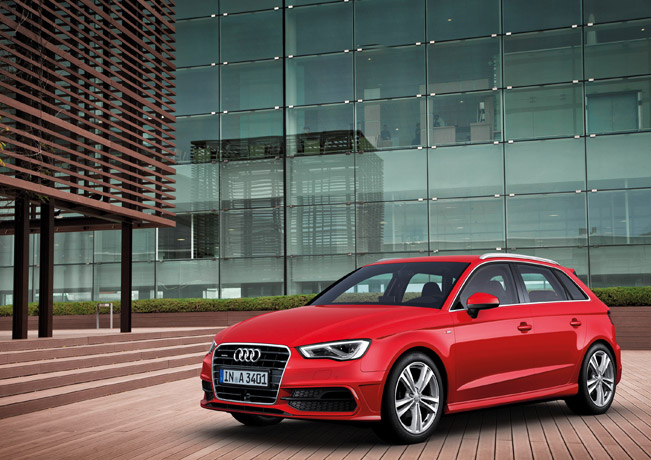 Audi has released full details about the new 2013 A3 Sportback. The compact five-door model with the spacious luggage compartment breaks new ground in terms of vehicle weight thanks to ultra-lightweight construction technology. The engines are powerful and efficient. The infotainment and driver assistance systems available in the new A3 Sportback set new standards in the premium compact segment.
The new Audi A3 Sportback is long and lean - length 4,310 mm, width 1,780 mm and height 1,425 mm. This  are only slightly greater than on the previous model, the wheelbase now measures 2,636 mm (8.65 ft), an increase of 58 millimeters (2.28 in). This makes the five-door model 35 mm (1.38 in) longer between the axles than the three-door version.
As a result of these dimensions, the passengers get some more legroom, a boot space of 380 liters and 1220 liters, when rear seats folded down.
The design with the three side windows is taut and concentrated, with every detail precise and expressive. The distinguishing element at the front of the vehicle is the distinctive, stone gray single-frame grille with the angled upper corners. The lower edges of the flat headlights taper off at an angle. Audi offers optional xenon plus headlights with LED daytime running lights, with LED headlights to follow somewhat later. Large air intakes up front hint at the power of the engines.
The new A3 Sportbck is coming with a choice of one TDI and two TFSI engines.
The 1.6 TDI is the most efficient engine in the model lineup. It can average just 3.8 liters of fuel per 100 kilometers (61.90 US mpg) when paired with the manual transmission. This corresponds to CO2 emissions of 99 g/km (159.33 g/mile). 0-100 km/h in 10.9 seconds and a top speed of 194 km/h (121 mph).
The other more powerful diesel will be available later next year, the 2.0 TDI has 184HP (135 kW) and 380Nm (280 lb-ft). 0-100 km/h in 7.4 seconds and a top speed of 232 km/h (144 mph). The average fuel consumption is 4.3 liters per 100 km (54.70 US mpg) and 111 grams CO2 per km.
The petrol range includes a new 1.4 TFSI – 122HP (90 kW) and 200Nm (148 lb-ft). 0-100 km/h in 9.3 seconds and a top speed of 203 km/h (126 mph). The average fuel consumption is excellent – 5.3 liters / 100 km with 123 grams of CO2/km.
The same engine has a second more powerful version – 140HP (103 kW) and 250Nm (184 lb-ft). It features the innovative cylinder on demand (COD) system, which deactivates the second and third cylinders at low to intermediate loads and while coasting. Average fuel consumption is 4.7 liters of fuel per 100 km (50.05 US mpg) with CO2 emissions are just 110 grams per. Performance is sporty, with a time of 8.4 seconds for the standard sprint (with manual transmission) and a top speed of 213 km/h (132.35 mph).
The new 1.8 TFSI, the most powerful gasoline engine in the lineup, produces 180HP (132 kW) and 250 Nm (184 lb-ft) of torque. It combines FSI direct injection with indirect injection and uses the Audi valvelift system to vary valve lift as required. The exhaust manifold is integrated into the cylinder head – a similar solution is also used in the two smaller TFSI engines. Key performance data with S tronic and front-wheel drive: from zero to 100 km/h (62.14 mph) in 7.3 seconds, top speed of 232 km/h (144.16 mph) and average fuel consumption of 5.6 liters per 100 km (42.00 US mpg) corresponding to 130 grams CO2 per km.
The 2013 Audi A3 Sportback is scheduled to hit the German market in February next year. The base model with the 1.2-liter TFSI starts at 22,500 EURO.
Source: Audi