2013 Geneva Motor Show: Gumpert Apollo S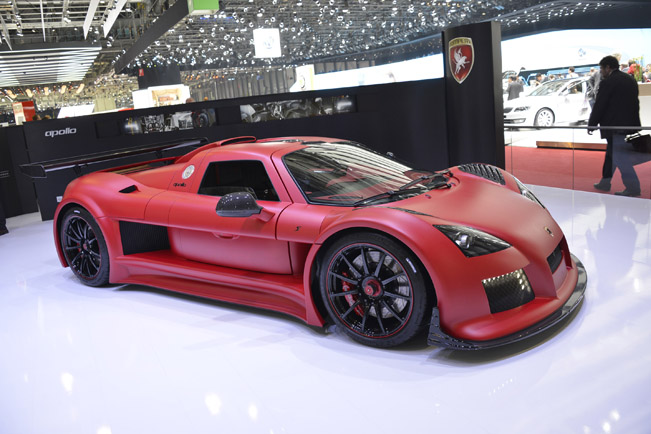 Gumpert has introduced Apollo S at the 2013 Geneva Motor Show. The manufacturer has a lot of issues, but now everything is alright and this is their latest creation.
The Apollo S is powered by a twin-turbo 4.2 liter V8 engine with 750HP (552 kW) at 6,000RPM and 900Nm (664 lb-ft) at 4,000RPM. 0-100 km/h in 2.9 seconds and a top speed of more than 322 km/h (200 mph). The more difficult 0-200 km/h is covered in just 8.8 seconds.
Gumpert offers three gearbox variants: a 6-speed fully-synchronized, a sequential with manual gear shift lever and an automatic electronic gear system with paddle shift.
Some of the highlights are chromium-molybdenum steel tube frame and a carbon/Kevlar monocoque with a carbon body shell and carbon/aluminum underbody. All this means superb strength and body rigidity and low weight.
The car rolls 19" or 20" alloy wheels with central locking and fitted with ultra-performance tires. Behind the wheels, there are 6-piston calipers front/ rear with 378mm ventilated discs.
There is a removable steering wheel, LED daytime running lights, carbon fiber rear wing, double wishbone suspension for both axles, front anti roll bar, adjustable ground clearance and a high-performance ABS system.
In pure "Gumpert spirit", the Apollo S is built with one and only purpose – PURE PERFORMANCE!
Source: Gumpert