2013 Geneva Motor Show: LaFerrari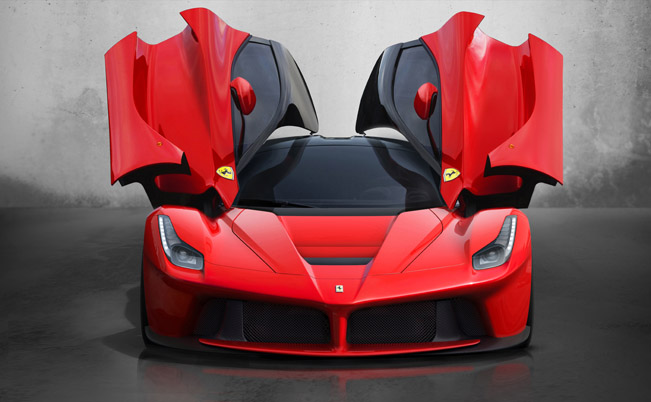 Ferrari has announced LaFerrari Limited Series Special at the 2013 Geneva Motor Show. Only 499 will be built of this spectacular sports car.
The model introduces the hybrid system which, making full use of the Scuderia Ferrari's F1 KERS know-how, has resulted in a solution that exalts Ferrari's fundamental values – performance and driving thrills.
The hybrid technology used, known as HY-KERS, represents the perfect combination of maximum performance and lower emissions. LaFerrari in fact emits just 330 g/km of CO2 but without resorting to electric-only drive which would not fit the mission of this model.
The HY-KERS system is, however, designed so that in future applications a car can be driven using exclusively electric power for a few kilometres and, during development testing, a full-electric version of LaFerrari achieved just 220 g/km of CO2 emissions on the combined cycle.
The engine is a 6.3 liter V12 with 800HP (588 kW) at 9,250RPM an 700Nm (519 lb-ft) at 6,750RPM. With the help of HY-KERS, the overall power is whopping 963HP and over 900Nm of torque. 0-100 km/h in under 3 seconds, 0-200 km/h in 7 seconds and 0-300 in breath-taking 15 seconds.
A lap time at Fiorano of under 1'20" – 5 seconds faster than the Enzo and over 3 seconds faster than the F12berlinetta. LaFerrari is thus the fastest road car in Maranello's long history.
Check out the full technical specs, below!
TECHNICAL SPECIFICATIONS
HY-KERS system
| | |
| --- | --- |
| Total maximum power | 963 CV |
| Total maximum torque | >900 Nm |
| V12 maximum power* | 800 CV @9000 rpm |
| Maximum revs | 9250 rpm |
| V12 maximum torque | 700 Nm @6750 rpm |
| Electric motor output | 120 Kw (163 CV) |
| CO2 emissions** | 330 g/km |
Performance
| | |
| --- | --- |
| Maximum speed | over 350 km/h |
| 0-100 km/h | <3 sec |
| 0-200 km/h | <7 sec |
| 0-300 km/h | 15 sec |
ICE
| | |
| --- | --- |
| Type | 65-deg. V12 |
| Bore and stroke | 94 x 752 mm |
| Total displacement | 6262 cc |
| Compression ratio | 13.5:1 |
| Specific power | 128 CV/l |
Dimensions
| | |
| --- | --- |
| Length | 4702 mm |
| Width | 1992 mm |
| Height | 1116 mm |
| Wheelbase | 2650 mm |
| Weight distribution | 41% fr, 59% r |
| | |
| Gearbox | |
| 7-speed DCT | |
Suspension
Front
double wishbones
Rear
multi-link

Tyres (Pirelli P-Zero)

Front
265/30 - 19
Rear
345/30 - 20

Carbon ceramic brakes (Brembo)

Front
398 x 223 x 36 mm
Rear
380 x 253 x 34 mm
Electronic controls
| | |
| --- | --- |
| ESC | stability control |
| High perf ABS/EBD | Performance anti blockage system/electronic brake balance |
| EF1-Trac | F1 electronic traction control integrated with the hybrid system |
| E-Diff 3 | third generation electronic differential |
| SCM-E Frs | magnetorheological damping with twin solenoids (Al-Ni tube) |
| Aerodynamics | active |
* with dynamic ram effect **Undergoing homologation
Source: Ferrari