2014 Engine of the Year - Results [images]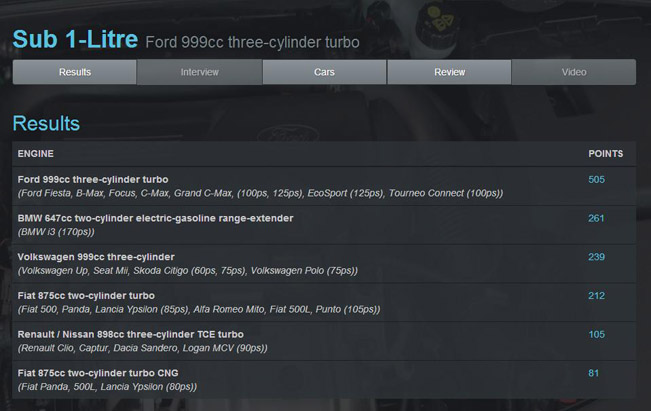 Ford managed to scoop the International Engine of the Year Award for third consecutive time. The "star" is again the three-cylinder 1.0 liter EcoBoost engine which was recently updated. It now produces 140HP (103 kW) and is able to accelerate the new Fiesta from 0 to 100 km/h in 9.0 seconds. The engine is also super-economical – 4.5 liters / 100 km (52.3 mpg US or 62.8 mpg UK) on combined cycle with CO2 emissions of 104 g/km.
The engine managed to gather 351 points from the jury putting it on 1st place. The 2nd place is for Ferrari's 4.5 liter V8 with 281 points and 3rd for Volkswagen's 1.4 liter TSI – 254 points. Of course, the 1.0 liter EcoBoost won the sub 1.0 liter category with 505 points.
Here are all the winners:
Sub 1-liter: Ford 999cc three-cylinder turbo
1.0-liter to 1.4-liter: Volkswagen 1.4-liter TSI Twincharger
1.4-liter to 1.8-liter: BMW / PSA Peugeot Citroen 1.6-liter turbo petrol
1.8-liter to 2.0-liter: Mercedes-AMG 2-liter turbo
2.0-liter to 2.5-liter: Audi 2.5-liter five-cylinder turbo
2.5-liter to 3.0-liter: BMW 3.0-liter twin-power turbo six-cylinder gasoline
3.0-liter to 4.0-liter: McLaren 3.8-liter V8
Above 4.0-liter: Ferrari 4.5-liter V8
New Engine: Mercedes-AMG 2.0-liter turbo
Green Engine: Tesla Full-electric powertrain
Performance Engine: Ferrari 4.5-liter V8
International Engine of the Year: Ford 999cc three-cylinder turbo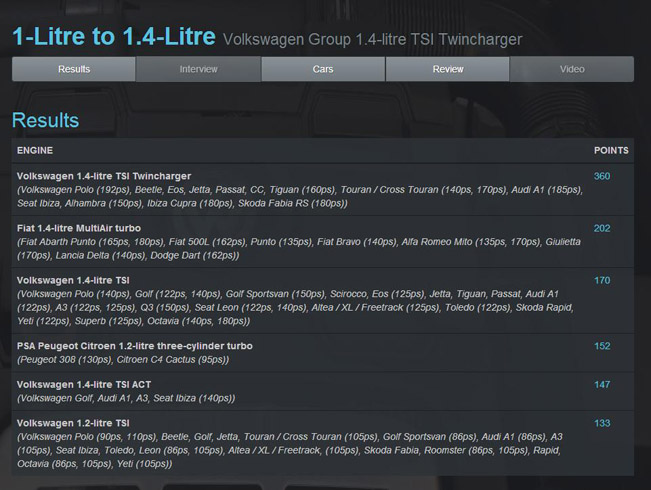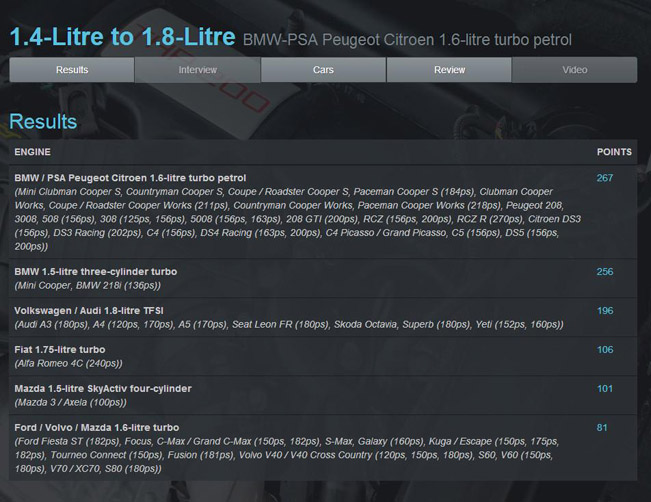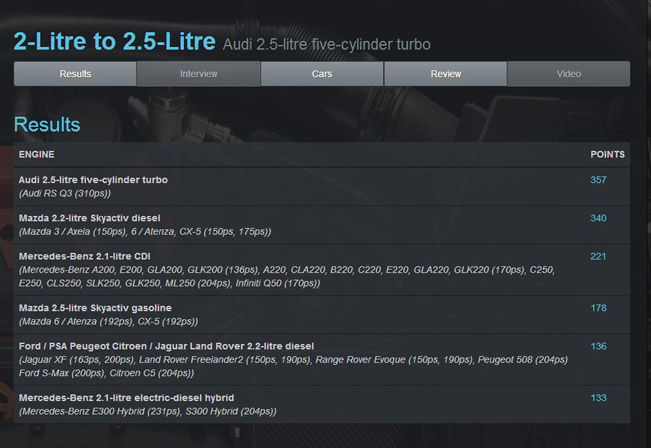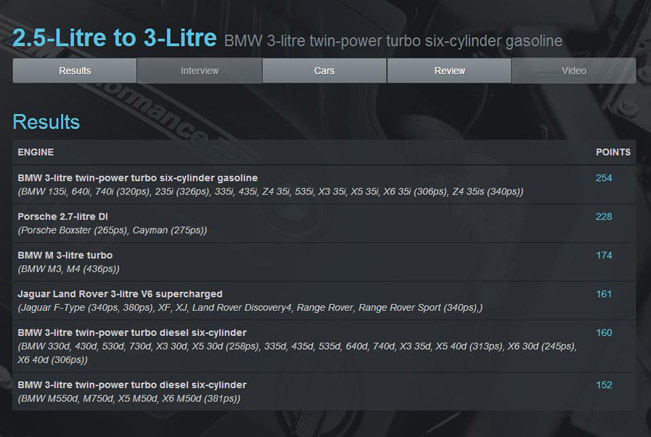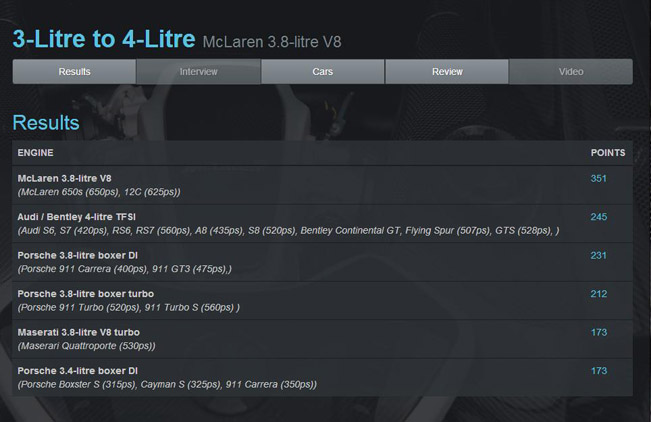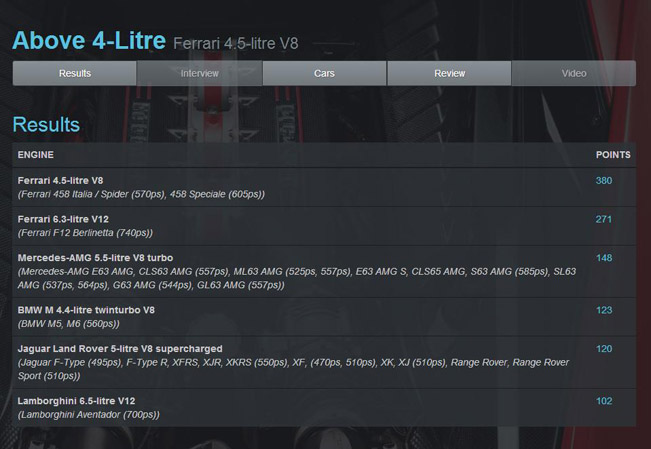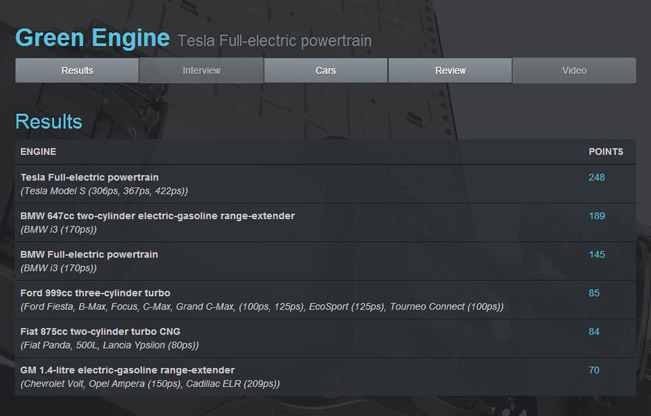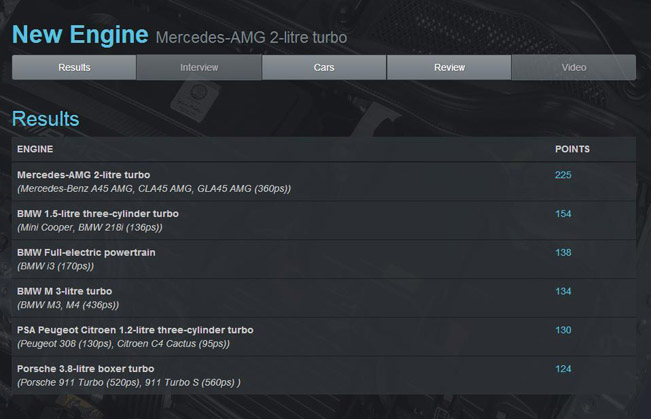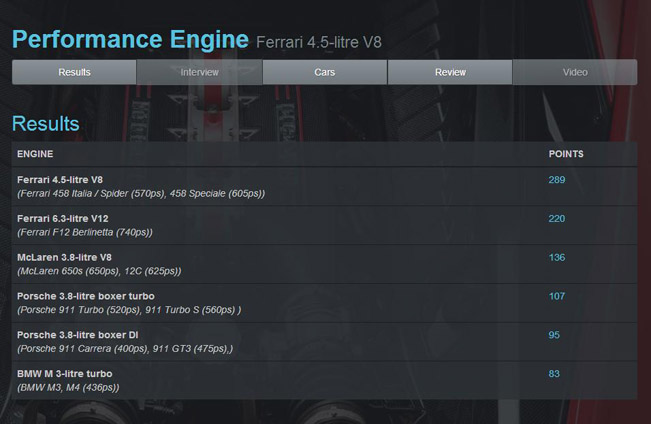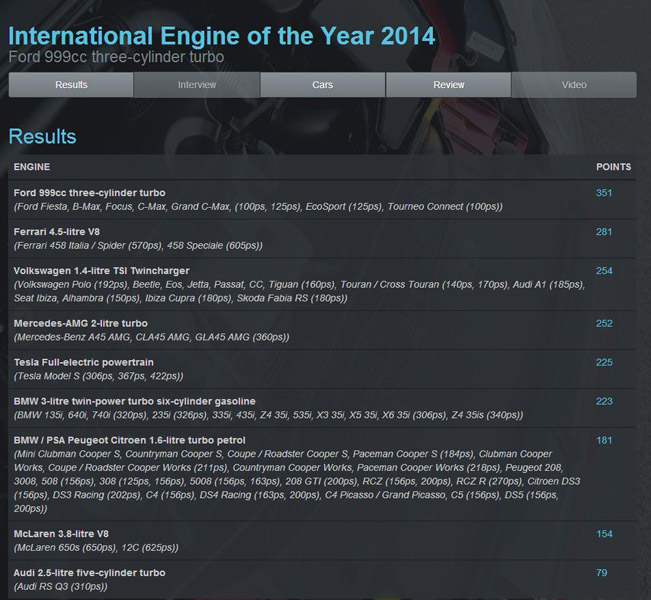 Source: Engine of the Year Awards