2014 Porsche 918 Spyder - Test Drive [video]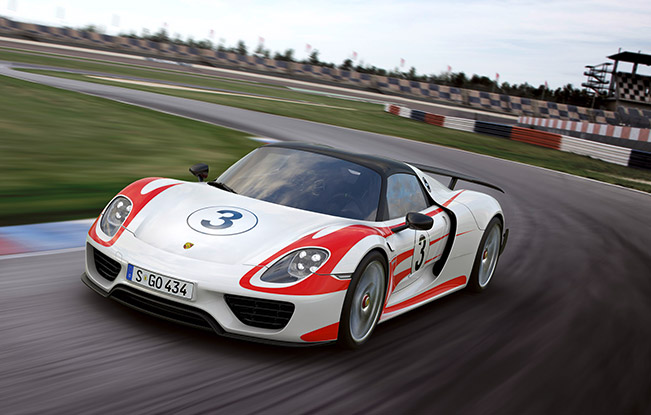 Drive has published a test drive video of the awesome hybrid supercar – Porsche 918 Spyder. It is driven by Mike Spinelli, who makes several laps at the Circuit of the Americas with a little help from Porsche factory driver Patrick Long
Porsche 918 Spyder is powered by a 4.6 liter twin-turbocharged V8 with 608HP (447 kW) and 530Nm (391 lb-ft) of torque. There are also two electric motors with 156HP (115 kW) and 129HP (95 kW) at each axle (front and rear). The maximum combined output is 887HP (661 kW) and over 800Nm (590 lb-ft) of torque. 0-100 km/h in 2.8 seconds and a top speed of 340 km/h (211 mph).
The 918 Spyder is priced at $845,000 excluding destination and handling tax. The manufacturer also offers Weissach Package for another $84,000. The package reduces the curb weight by 34 kg (77 lbs) by removing the audio system, air conditioning, door storage and armrest, while the regular paint is removed to be changed with an exterior foil.
Porsche 918 Spyder also holds a lap record on the Nurburgring – 6 minutes and 57 seconds with an average speed of over 179.5 km/h(111 mph), as measured by Wige Solutions.
Enjoy!
Source: Drive via Youtube