2015 Chevy Colorado and GMC Canyon to offer leading fuel economy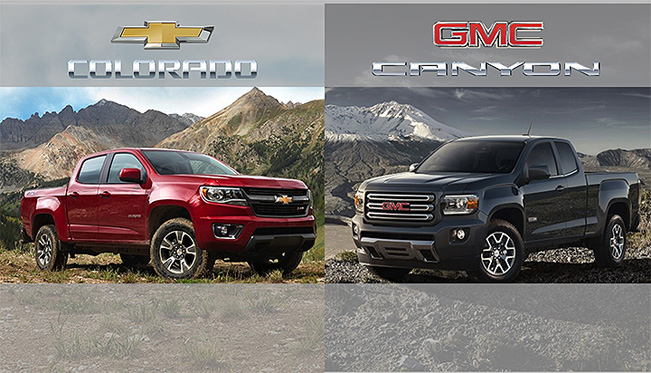 Chevrolet and GMC have proudly cited the latest EPA fuel economy estimates, saying that both the 2015 Chevrolet Colorado and 2015 GMC Canyon will come with segment-leading fuel economy for the V6 versions of the mid-size pickups.
When compared to other V6 pickups with automatic transmissions, which make up the majority of midsize truck sales, the 2015 Colorado and 2015 Canyon will offer highway fuel economy that is between 3 mpg and 5 mpg better than other competitors.
"Colorado offers some of the best EPA fuel economy estimates of any pickup in a fun-to-drive, easy-to-own package," said Tony Johnson, Colorado marketing manager. "Colorado proves you don't have to buy a lot of expensive technology to save money at the pump."
"The all-new 2015 GMC Canyon adds segment-leading fuel economy to its winning resume," said Kenn Bakowski, Canyon marketing manager. "Innovations such as available active grille shutters combine with an aerodynamic design in a smaller, more maneuverable package to set a new standard for fuel economy in midsize trucks."
Both vehicles feature a 3.6-liter V6 engine with direct fuel injection and continuously variable valve timing that outputs 305 horsepower (224 kW). The engine is connected to a 6-speed automatic gearbox. Thanks to the fuel-efficient engine the vehicles achieve 18/26/21 US mpg (13.1/9.0/11.2 liters per 100 km) (city/highway/combined) of fuel economy for the 2WD version. The 4x4 version of the same vehicles offers 17/24/20 US mpg (13.8/9.8/11.8 liters per 100 km) (city/highway/combined) of fuel economy. In addition to this engine for the 2016 model year Colorado and Canyon will also feature a 2.8-liter Duramax turbodiesel engine. The technical details of this unit are unclear as of now, however. The same holds true for the 4-cylinder versions of the same vehicles.
The 2015 Chevrolet Colorado and GMC Canyon will be available in late 2014.
Source: General Motors