2015 Ford Focus ST - Officially Unveiled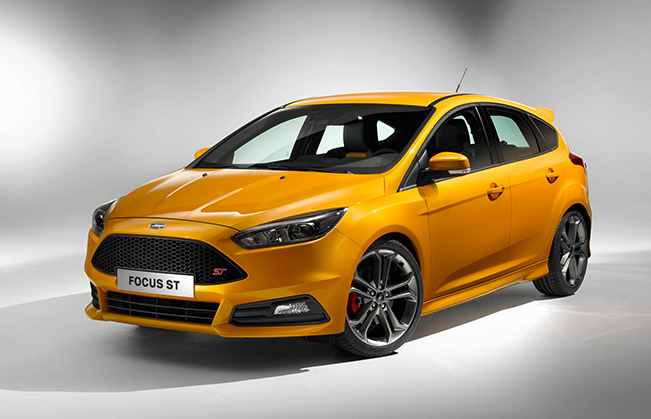 Ford has officially unveiled the 2015 Focus ST, which is expected to make its official public debut at the Goodwood Festival of Speed. The facelifted model comes with a lot of updates including modified exterior, retuned suspension, new engines and a modest makeover for the cabin.
The exterior of 2015 Focus ST boasts new front and rear bumpers, a new front hood and updated headlights featuring HID headlamps standard with ST2 and ST3 trim levels . The car also comes with restyled fog lights and a set of new 18" alloy wheels fitted with low-profile tires. There is also a new exterior color: Magnetic Metallic, which replaces Ingot Silver. Two over-the-top stripe choices now available – Satin Black and High Gloss Red, stripes come with matching mirror skull caps.
The interior features redesigned instrument panel center stack with improved climate controls and new finishes. There is also a new media bin with USB smart charging port, which charges two times faster than previous USB port. Also updated are front door storage places and cupholders. The new flat-bottom steering wheel will provide extra leg clearance for the driver. The options list include: Recaro sport seats, heated steering wheel and eight-way power driver's seat.
The engine range will include a revised 2.0 liter EcoBoost four-cylinder – 250HP (183 kW) and 360Nm (265 lb-ft) of torque. 0-100 km/h in 6.5 seconds and a top speed of 247 km/h (154 mph). The fuel consumption is impressive – 6.8 liters / 100 km in combined cycle (41.5 mpg UK or 34.5 mpg US) with CO2 emissions of 158 g/km. The result is thanks to a new engine start/stop system. The other new engine is a 2.0 liter TDCi with 185HP (136 kW) and 400Nm (295 lb-ft). 0-100 km/h in 8.1 seconds and a top speed of 217 km/h (135 mph). It will average 4.4 liters / 100 km (64.2 mpg UK or 53.4 mpg US) with CO2 emissions of 114 g/km.
Source: Ford