Wolf Racing Ford Focus ST - 370HP and 556Nm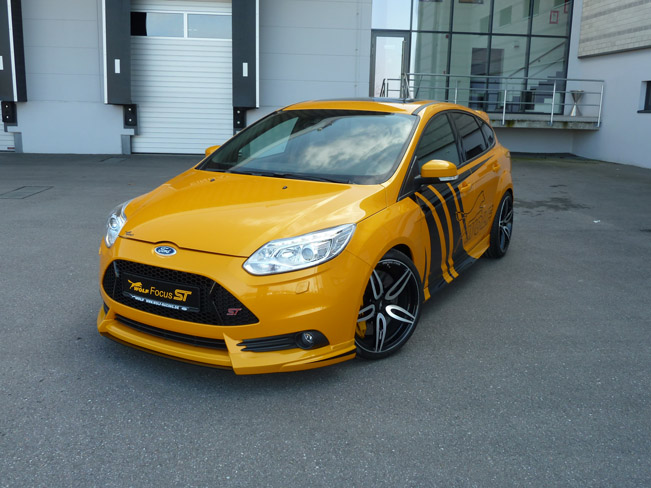 Wolf Racing has released another tuned Ford Focus ST. The hot hatchback comes with a number of upgrades including super powerful tuned engine. There is a three-stage performance improvement increasing the power with up to 120HP.
Ford Focus ST is powered by a 2.0 liter EcoBoost with 250HP (184 kW) and 360Nm (265 lb-ft) of torque. 0-100 km/h in 6.5 seconds and a top speed of 250 km/h (155 mph) – electronically limited.
Stage I boosts the engine to 285HP (210 kW) and 440Nm (326 lb-ft) of torque. The price is €1,290 and it includes a new air filter and ECU re-map.
Stage II offers 300HP (221 kW) and 450Nm (333 lb-ft). The price is a lot - €3,240, which includes a new turbocharger as well as new air filter and ECU re-map.
Stage III has whopping 370HP (272 kW) and 556Nm (409 lb-ft) of torque. The price is €5,900 – a new turbocharger, a complete sports exhaust system, sport air filter, ECU re-map.
Other highlights include a new brake system – €3,350; headlight covers – €95; roof spoiler lips – €165; side skirt – €338; and rear skirt attachments – €395.
Except for the front and rear headlight covers, all the components are available in either the unpainted standard design or with a carbon finish.
The coilover suspension is priced at €1,249. It lowers the car up to 50 mm front and up to 40 mm rear. There is also a spring set for €189.
There is an extensive range of exclusive alloy wheels in sizes 17" to 20".
All products are now available directly at Wolf Racing and can be ordered online.
Source: Wolf Racing