A, B and CLA-Class with Improved Engines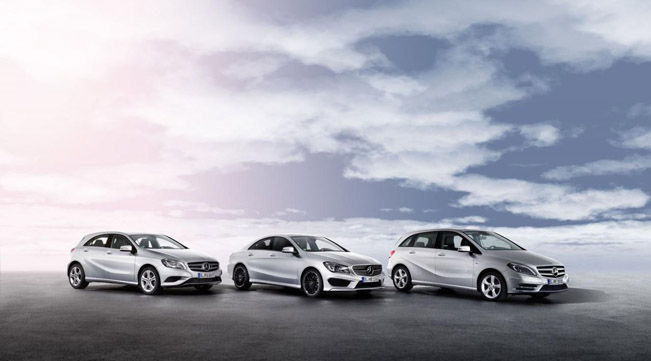 Mercedes-Benz has announced several new engines for the A,B and CLA-Class. The model ranges are being extended with the addition of highly economical entry-level versions, another fuel-efficient BlueEFFICIENCY Edition model as well as 4MATIC all-wheel drive variants boasting high levels of traction.
The A and B-Class gain an entry-level 160 CDI model with 1.5 liter turbocharged diesel with 90HP (66 kW) and 220Nm (162 lb-ft). 0-100 km/h in 13.8 seconds and a top speed of 180 km/h (112 mph). The fuel consumption is 3.8 litres / 100 km – 61.9 mpg US for the A-Class and 4.1 liters / 100 km for the B-Class.
The new B 220 4Matic is powered by a 2.0 liter turbocharged petrol engine with 184HP (135 kW). It is connected to a 7-speed dual-clutch gearbox. 0-100 km/h in 7.5 seconds and a top speed of 225 km/h (140 mph).
The B 180 CDI has a new 1.5 liter turbo-diesel with 109HP (80 kW) achieving 4.1 litres / 100 km – 57.3 mpg US.
The models will be joined by the previously announced CLA 250 4Matic, CLA 45 AMG and CLA 45 AMG Edition One.
Check out the specs below.
New models:
| | | | | |
| --- | --- | --- | --- | --- |
| Model | A 160 CDI | B 160 CDI | B 180 CDI BEE** | B 220 4MATIC |
| Engine | 4/in-line | 4/in-line | 4/in-line | 4/in-line |
| Transmission | 6-speed, manual | 6-speed, manual | 6-speed, manual | 7G-DCT |
| Output | 66 kW (90 hp) | 66 kW (90 hp) | 80 kW (109 hp) | 135 kW (184 hp) |
| 0-100 km/h | 13.8 s | 14.0 s | 11.6 s | 7.5 s |
| Top speed | 180 km/h | 180 km/h | 190 km/h | 225 km/h |
| Price* | 25,882.50 | 27,310.50 | 28,738.50 | 33,230.75 |
| | | | |
| --- | --- | --- | --- |
| Model | CLA 250 4MATIC | CLA 45 AMG | CLA 45 AMG Edition 1 |
| Engine | 4/in-line | 4/in-line | 4/in-line |
| Transmission | 7G-DCT | AMG SPEEDSHIFT DCT 7-speed sports transmission | AMG SPEEDSHIFT DCT 7-speed sports transmission |
| Output | 155 kW (211 hp) | 265 kW (360 hp) | 265 kW (360 hp) |
| 0-100 km/h | 6.6 s | 4.6 s | 4.6 s |
| Top speed | 240 km/h | 250 km/h | 250 km/h |
| Price* | 40,876.50 | 56,078.75 | 63,099.75 |
Source: Mercedes-Benz