ABT Audi S3 Saloon - 370HP and 460Nm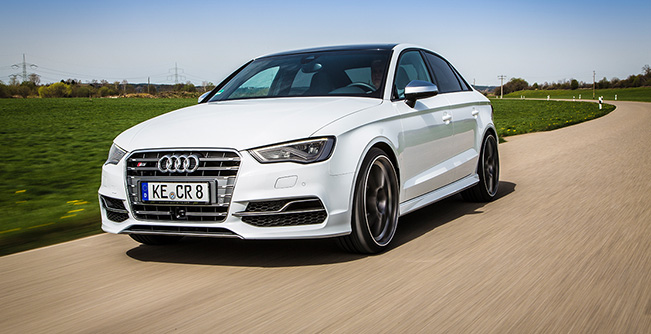 ABT has revealed their latest project based on the recently introduced Audi S3 Saloon. It boasts upgraded engine and impressive exterior.
The 2.0 liter TFSI is boosted to 370HP (272 kW) and 460Nm (341 lb-ft) of torque – an increase of 70HP and 80Nm. This helps the S3 to achieve a top speed of 265 km/h (165 mph) and a staggering acceleration 0-100 km/h in just 4.5 seconds. The result is thanks to a new sports exhaust system and an ECU re-map. There is also a complete cold air intake system including high-flow filter.
Other highlights include 20" DR alloy wheels fitted with performance tires. There are also 18" or 19" versions and the ER-C and CR wheels are also available. ABT fitted the sports saloon with new fender inserts made from high-quality ABS plastic. ABT integrated entrance lights, floor mats and air caps round off the package and raise the styling to a higher level.
And at full throttle, the S3 saloon will indeed resemble a rocket. "Lean back, accelerate and enjoy," as ABT Sportsline CEO Hans-Jürgen Abt said.
Pricing for the upgrades is available upon request and all of them can be ordered separately.  The tuning specialists from Abt offer installation at additional cost.
Source: ABT