ABT Volkswagen Golf R - 400HP and 480Nm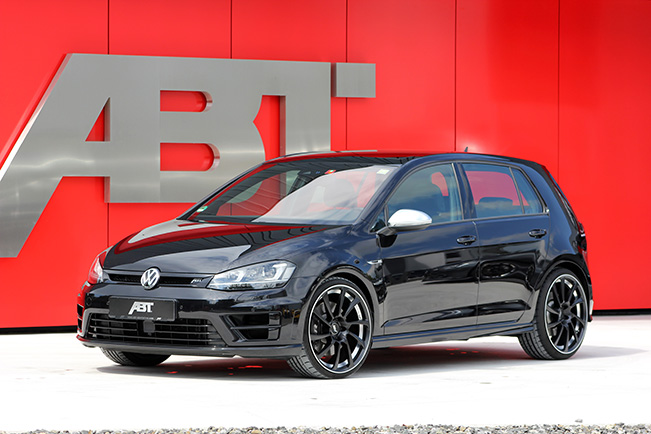 ABT is now offering a staggering performance package for the ultra-hot hatchback – 2014 Volkswagen Golf R. The tuned vehicle is able to reach 300 km/h (186 mph).
"To top our previous uprating to 370 hp, we have not only optimised the ABT Engine Control software but also installed a sport-type catalytic converter," says CEO Hans-Jürgen Abt.
Both the ABT Power and the new, strong ABT Power S kit are based upon the specially developed "New Generation" ABT control unit, which guarantees maximum power and utmost dependability. This has been proven on our own dynamometer and on public roads.
The Golf R also has received a complete aerodynamics package including modified front grille, a pair of headlights covers, new mirror caps, a pair of modified side skirts and last, but not least a tail-gate add-on spoiler.
There are also different wheels in ER-C, DR and CR designs ranging from 18" to 20". The stance is further improved by a height adjustable suspension kit, which can lower the front from 10 to 40mm and the rear from 20 to 45mm.
ABT Golf VII R – data and facts
ABT ENGINE TECHNOLOGY
Engine:  2.0 TSI, 1984 cc capacity - Serieal 300HP (221 kW) and 380Nm (281 lb-ft)
Performance Tuning: ABT POWER S New Generation
Performance: 400HP (294 kW)  and 480 Nm (356 lb-ft)
Engine: 2.0 TSI, 1984 cc capacity
Performance Tuning: ABT POWER New Generation
Performance: 370HP (272 kW) and 460Nm (341 lb-ft)
ABT AERODYNAMICS
ABT front grille
ABT headlight covers
ABT mirror covers
ABT side skirts
ABT tail gate add-on
ABT WHEELS in design ER-C, DR and CR in 8.5 x 18in, 8.5 x 19in and 9.0 x 20in
Available also as complete set with sports tires in 225/40 R18, 225/35 R19 and 235/30 R20
ABT SUSPENSION
ABT height adjustable suspension kit (lowering: front 10-40mm, rear 20-45mm)
ABT INTERIOR
ABT floor mats
ABT integrated entrance light
Source: ABT