Essen Motor Show Welcomes the Stronger MINI JCW by AC Schnitzer [VIDEO]

AC Schnitzer has just sent us some information about the two MINIs it is currently presenting at the Essen Motor Show in Germany. Both are stylish and versatile and are a basically focused on performance. The models I am talking about are the MINI Cooper S and the John Cooper Works, both having very strong engines and sporting characteristics.
Performance Upgrades and More...
For both MINI variants, the tuning company is offering performance upgrades. Precisely, the change in power is from 192 hp (141 kW) to 235 hp (173 kW) and from 231 hp (170 kW) hp to 265 hp (195 kW).
SEE ALSO: BMW X6 M by AC Schnitzer Goes Beyond the M Standard [VIDEO]
The power of the cars just had to be communicated externally in terms of appearance and sound. Hence, AC Schnitzer added silencer systems that comprise of back box and two "Sport" or "Sport Black" tailpipes positioned centrally. This kit adds "Track Mode" flap system with remote control for optimized sound, too. The "Sport" and "Sport Black" tailpipe trims are also available.
Sports Handling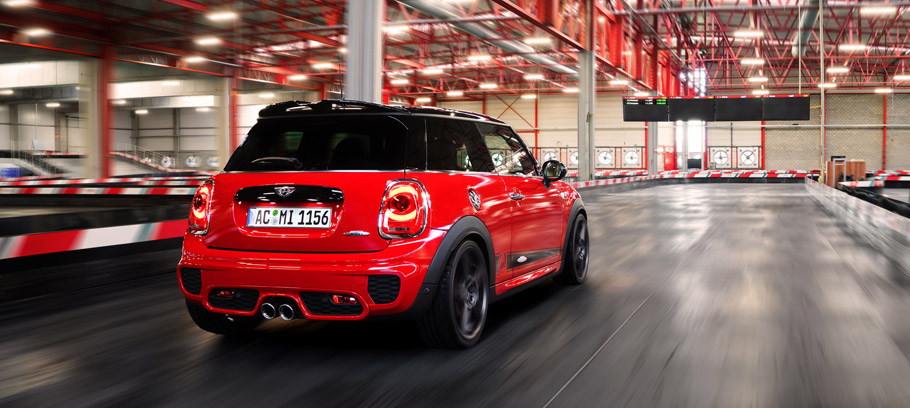 The driving behavior was further enhanced via the new suspension spring kits tat lower the cars 20 - 30 mm at the front and around 25 - 35 mm at the rear. There is nowhere to go without the proper rims, so the tuning team added 19-inch AC1 alloys, developed specifically for the new MINIs. They have double-spoke design and are fitted with tyres sized 215/35 R19.
In addition, AC Schnitzer's front splitter now fits below the standard front skirt, thus delivering better downforce and a subtly sporting look. The rear skirt protective film, a Decor set and the rear "Technology & Design" logo complete the tuning.
In the video below you can hear the sound of the new exhaust of AC Schnitzer's MINI. Enjoy!
Video Source: YouTube
Source: AC Schnitzer