Manhart Racing Changes the Emblematic MINI John Cooper Works into Something Extraordinary!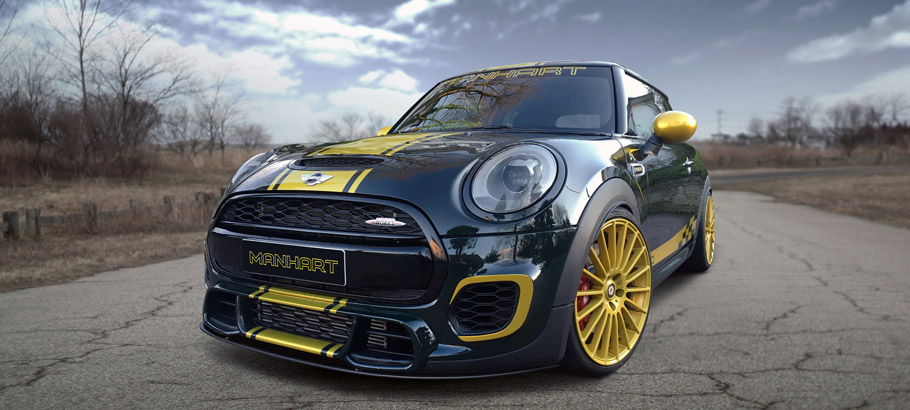 Do you know that this year Manhart Racing is celebrating its 30th anniversary? This only means that we are going to see even more exclusive project from the tuner that we are used to. The current one is based on the latest MINI John Cooper Works F56, which is fitted with MINI F300 personalization package.
Power Upgrade
The best thing about the F300 upgrade is that it concerns every part of the MINI, including its engine and performance. The tuners began with the remapping of the four-cylinder turbocharged motor. They actually changed the fuel, ignition, boosted the software and replaced the standard intercooler with one coming from Wagner.
SEE ALSO: Meet Manhart's MHX5 700 Project Based on the X5 M F85 
Remus stainless steel sports exhaust was then added, and it includes larger downpipe and valve control, thus minimizing the backpressure and delivering throaty sound. After these modifications, the MINI F56 proudly 'says' that it can produce 300 hp (221 kW) and 470 Nm (347 lb-ft) of torque.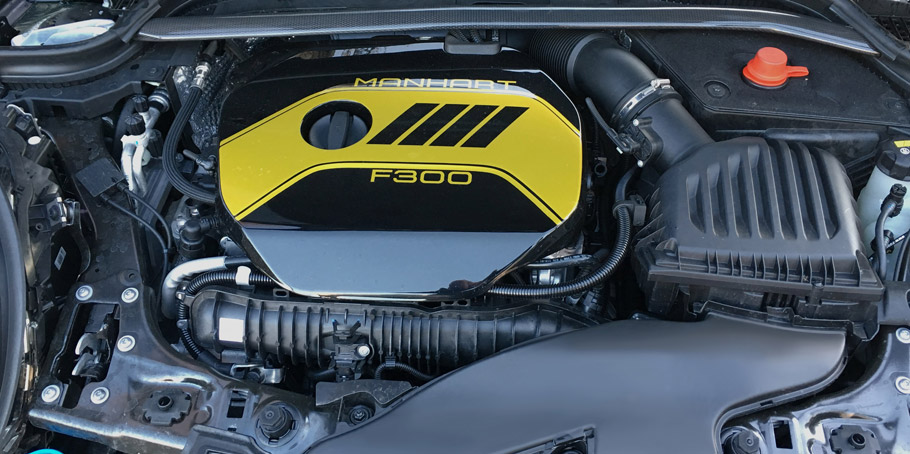 Exterior
After the more important modifications were done (after all this is a sports variant of the MINI), some other custom elements waited to be added. For instance such are the KW Variant 3 coil-over suspension kit, which has this cool ride height adjustment feature and an adjustable bounce and rebound control. The in-house made carbon-fibre front suspension tower strut brace stiffens up the front-end to reduce torque steer.
Everything mentioned by far is backed up by the gold-painted MANHART 19-inch multispoke alloys fitted with 235/35ZR19 tyres. At last, but not least, the entire exterior was re-painted with British Racing Green and then embellished with a specially designed gold decal set.
Interior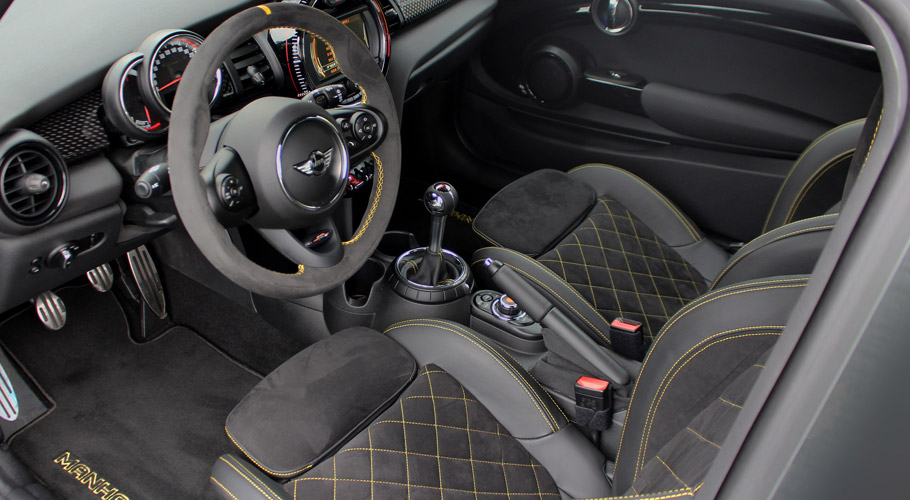 Moving forward to the interior, the theme in the cabin counts on the luxury rather rather than on motorsport. See the seats as they are covered in the finest anthracite leather and Alcantara and contrasted with gold outline stitching. Their Alcantara inserts feature gold cross-stitching for a harmonious effect. The same approach has been used for the Alcantara-wrapped steering wheel, while the velour floor mats have been embroidered with Manhart logos.
Wonder what the next 30th anniversary project by Manhart would be? Which car would you like to see tuned?
Source: Manhart Performance