Acura Unveils Three New Vehicles: Acura ILX Concept, 2013 Acura RDX and Acura NSX Concept
The brand Acura has just unveiled today their three new vehicles at the North American International Auto Show in Detroit: a concept version of the all-new ILX luxury compact sedan, a prototype of the 2013 RDX crossover sport utility vehicle, and the NSX Concept. The company has also announced that the next-generation NSX will feature Acura's innovative new Sport Hybrid SH-AWD® technology and that the vehicle will be developed by Honda R&D Americas and manufactured in Ohio.
The Acura ILX Concept is the precursor to the Acura luxury compact sedan which is going to be launched in the spring of 2012. The new ILX will feature three different powertrains, including Acura's first-ever gas-electric hybrid! The focus is on exterior styling, affordability and environmental issues. Moreover the new concept vehicle is sleek, sporty and aerodynamically efficient. As seen in the exterior of the all-new Acura ILX, the model combines luxury, performance and efficiency. Another advantage is that it has a compact, yet formal proportion, delivering a very professional image. Furthermore the lineup of ILX models will include an entry-level model powered by a 2.0-liter inline 4-cylinder engine; a high-performance model with a 2.4-liter inline 4-cylinder engine paired with a six-speed manual transmission; and a 1.5-liter gasoline-electric hybrid powertrain (Acura's first-ever hybrid offering). The ILX will include a high–quality interior which is spacious and sporty.  It will also offer a number of new valuable features such as a smart entry keyless access system and pushbutton start, Pandora internet radio interface and SMS text message function for smart connectivity with the world. In addition the ILX will have a long list of standard options, different trim levels (that will include a Technology Package), multiple transmission choices, and excellent standard safety features— including Acura's acclaimed Advanced Compatibility Engineering™ body structure, front, side and side-curtain airbags, 4-channel anti-lock brakes and Vehicle Stability Assist™ (VSA™).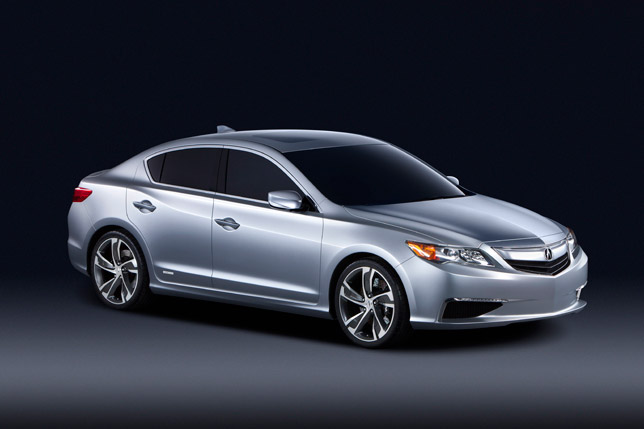 The second vehicle that has been just unveiled is the 2013 Acura RDX. It is a prototype variant of the 2013 RDX - the second generation five-passenger crossover SUV. The goal in its design was the approach to advanced performance and fuel efficiency via a new engine; transmission and all-wheel drive system. The 2013 RDX is scheduled for launch in the spring of 2012. It will have as standard equipment a 3.5-liter V-6 engine which produces 273 horsepower (200 kW). In order to improve the performance and fuel economy, the RDX makes use of a 6-speed automatic transmission with a new lock-up torque converter. In addition the RDX also gets a new, lighter all-wheel-drive system which provides the required performance and safety with increased efficiency. The fuel economy ratings range is 20 mpg in the city and 28 mpg on the highway, which makes the front-wheel-drive models of the 2013 RDX the best fuel economy of any gasoline-powered luxury SUV in its class. Furthermore the RDX exterior incorporates a sleek, more aerodynamic body, with a longer, sculpted hood and styling that is more classy and sophisticated. Furthermore the chassis updates feature a longer wheelbase and wider track, all-new Amplitude Reactive Dampers, and a new motion adaptive electronic power steering system. Inside the 2013 RDX, new sweeping shapes, matte surface trim, and generous use of leather combine to give the RDX interior an upscale look and luxury feel. In the interior is also used sound deadening materials and Active Sound Control team. They all provide an exceptionally quiet cabin.  The larger door openings, widened passenger room, increased cargo volume and a power rear tailgate make the RDX interior more accommodating and flexible. The new 2013 RDX will also receive a host of new technologies including Pandora internet radio interface, SMS text message feature, a smart entry keyless access system, pushbutton start, and a three view rear camera. There's an optional Technology Package which features AcuraLink® Satellite Communication System, Acura Navigation System with Voice Recognition™, AcuraLink Real-Time Traffic with Traffic Rerouting™, and AcuraLink Real-Time Weather™ with radar image maps. New for 2013, the even more advanced navigation system utilizes a hard disk drive (HDD) with 60 gigabytes of storage capacity – including 15 gigabytes that can be allocated for music storage.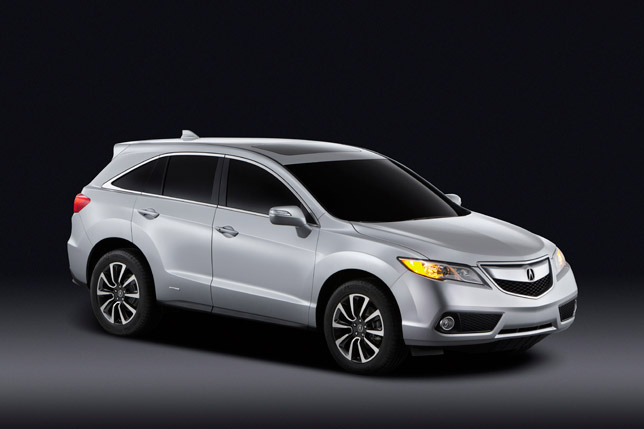 The third vehicle is Acura NSX Concept which is dynamically-styled and gives an indication of the next great performance vehicle from the Acura brand. The designers used lightweight materials and a mid-mounted V-6 engine to build the NSX Concept. The car also employs several new technologies for Acura, including application of Acura's innovative new Sport Hybrid SH-AWD® (Super Handling All Wheel Drive™) hybrid system. In addition it makes use of the unique 2 Electric Motor Drive Unit with a bilateral torque adjustable control system. It also has the all-new hybrid all-wheel-drive system which can instantly generate negative or positive torque to the front wheels during cornering. Moreover the new Sport Hybrid SH-AWD® will offer unmatched handling performance. In addition to the handling advantages of the Sport Hybrid SH-AWD® system, a powerful next-generation VTEC® V-6 engine with direct-injection works in concert with a dual clutch transmission with built-in electric motor. This results in supercar acceleration while at the same time it also offers outstanding efficiency. While most supercars opt for huge force delivered from a large engine, the NSX Concept champions the true racing strategy of a favorable power-to-weight ratio. The new Acura supercar, expected to debut in the next three years.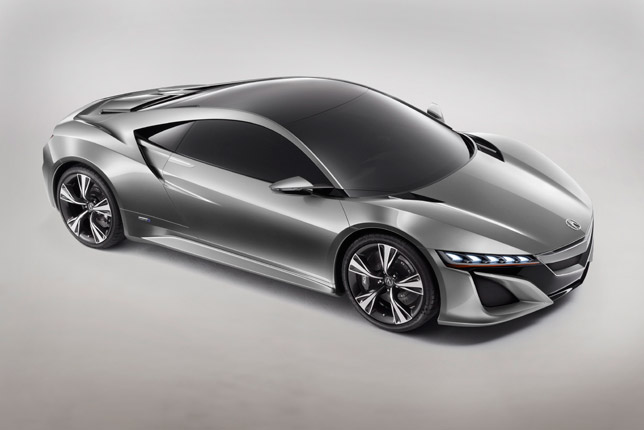 DIMENSIONS

RDX Prototype

ILX Concept

NSX Concept

Length, mm

4,660

4,555

4,330

Width, mm

1,872

1,890

1,895

Height, mm

1,630

1,425

1,160

Wheelbase, mm

2,685

2,670

2,575

Wheel size, in

19x7.5

19x8

19x9 (front)

20x10 (rear)

Tire size

235/55R19

235/35R19

255/35R19 (front)

275/30R20 (rear)
Source: Acura