Anderson Germany Maserati GranTurismo S Superior Black Edition
Anderson Germany has introduced their tuning program for the stylish Maserati GranTurismo S. The name of the project is Superior Black Edition and as you may suggest, the car comes in a silky matte-black exterior.
However, there are some shiny elemets like the window frames, grill and the rear logo. Matching to the whole ensemble both front and tail lamps are tinted.
The aerodynamics kit includes a new bonnet, side mirror covers, tailgate lip spoiler as well as a front and rear aprons and side air inlets. All parts are made from carbon fiber, which is extremely light and strong.
Finally, Anderson fitted a new stainless-steel sport exhaust system for better sound and more horsepower, of course.
The tuner also provides a performance package, which boost the mighty 4.7 liter V8 to 492PS (362 kW), instead of the factory's 440PS (324 kW).
Anderson Maserati GranTurismo S stands on enormous glossy black 21" rims fitted with 265 low profile tires up front and 295 low profile tires at the rear. The stance is further improved by a set of lowering springs.
The interior boasts complete carbon package consisting of the air inlets, door knobs, the switch desk in the roof liner, the door sill panels, the steering wheel, the seat regulation levers, the shifting paddles, as well as the radio mask.
The black carbon leather combined with also black Alcantara are also present.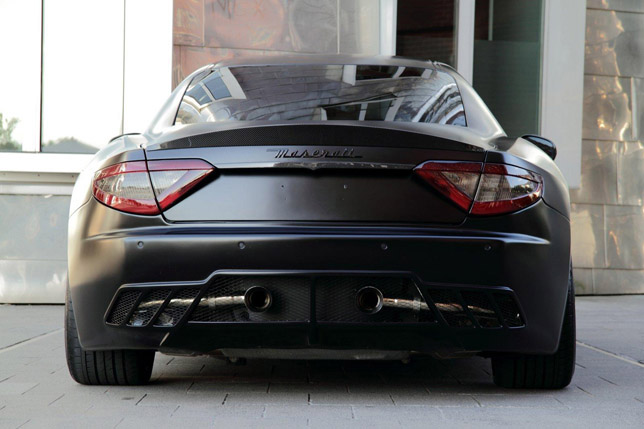 Source: Anderson Germany