Audi TT-RS vs Chevrolet Corvette ZR1 and BMW M6 F13 Coupe [video]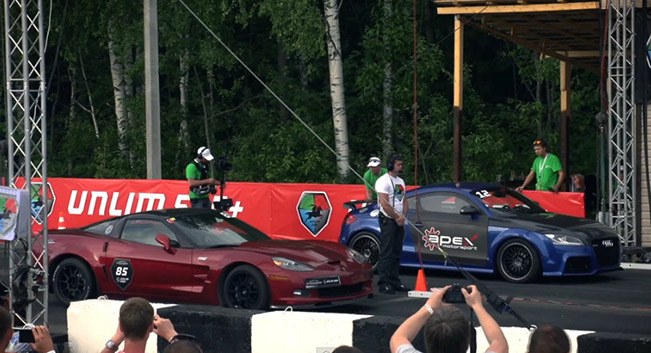 A powerful Audi TT RS Mk.2 Revo Technik Stage 3 is the new star in Unlimited 500+ drag racing series. The compact sports car is powered by a 2.5 liter turbocharged five-cylinder TFSI engine originally delivering 360HP (265 kW) and 465Nm (343 lb-ft). The Revo Technik Stage 3 version is boosted to 530HP (390 kW), which appears to be enough to beat extremely powerful vehicles.
In the first start, the TT RS Revo Technik won versus a Chevrolet Corvette C6 ZR1 V&S / IPS Motorsports with 850HP (625 kW). The Audi crossed the finish line (1 km distance) in 19.255 seconds with 266 km/h, while the Chevy needed 20.961 seconds with 271 km/h. The ¼ mile times are 10.465 seconds with 216 km/h and 12.155 seconds with 211 km/h, respectively.
In the second start, the less powerful Audi was versus BMW M6 F13 Coupe PP-Performance Stage 2+ with 720HP (529 kW). The Audi won again – 19.263 seconds with 265 km/h (1 km) and 10.442 seconds with 213 km/h (1/4 mile), while the BMW finished in 21.397 seconds with 266 km/h (1 km) and 12.404 seconds with 206 km/h (1/4 mile).
It very interesting, that the tuned TT-RS has almost the same power output as the recently unveiled Audi A3 Clubposrt Quattro Concept powered by the same engine, but with 525HP (386 kW) and 600Nm (442 lb-ft) of torque.
Enjoy!
Source: Dragtimesinfo