Audi TT RS [render]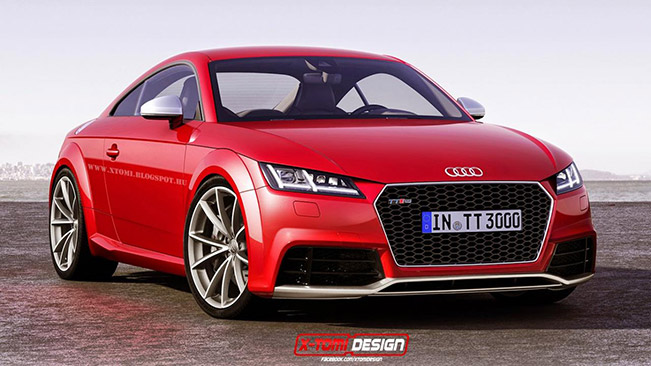 X-Tomi Design has published an awesome render picture of the upcoming Audi TT RS. It is extremely aggressive, but in the same time carries the unique style of the latest Audi cars. The recently announced 3rd generation of TT has already get an S version, so it is quite possible the German manufacturer will make a super-powerful RS model.
Still, it is quite early for the top-of-range model, but the RS will basically look a lot like TT-S. To match the aggressive exterior, the TT-RS will come with an improved 2.0 liter TFSI engine with around 400HP (294 kW) compared to the 310HP (228 kW) and 380Nm (280 lb-ft) of torque power unit in TT-S.
Of course, Audi TT RS is expected no sooner than 2015, which will be followed by even more spectacular version – TT RS Plus coming sometime in 2016.
The TT range will be joined by Audi TT Offroad production model with a hybrid powertrain including a  four-cylinder 2.0 liter TFSI working together with two electric motors. The combined output is 408HP (300 kW) and 650Nm (479 lb-ft). 0-100 km/h in 5.2 seconds and a top speed of 250 km/h (155 mph). The Plug-in hybrid is able to cover 50 km (31 miles) in electric mode.