Barracuda Racing Audi RS3 8P "Shoxx" with exclusivity and style

Barracuda Racing is not usually in our news very often, but when it does it comes out with some special tuning, which demands attention. The here presented Audi RS3 is being under the spotlight today, with a minimally invasive tuning but still looking good as hell. This project won't satisfy the taste of many, but will please those who love class and style expressed with a lot of attention to the detail and minimum invasion. So, here is what has happened to the RS3.
First bringing the attention are the new double-five spoke alloy wheels from Barracuda Racing The wheels feature an individuality that eschews mainstream designs. They are called Shoxx and come in 9.0x19-inches. Colored in an attractive 'Bronze' Finish, they were eventually coupled with 235/35R19 tyres.
SEE ALSO: Barracuda Racing Toyota GT86 meets Tzunamee
Furthermore, this five curved double spoke design can be also perfectly compatible with high performance brake systems, without the need of any bodywork alterations. In order to additionally improve the appearance as well as the driving dynamics, this powerful Audi hatchback has been equipped with the KW Variant 3 coilover suspension.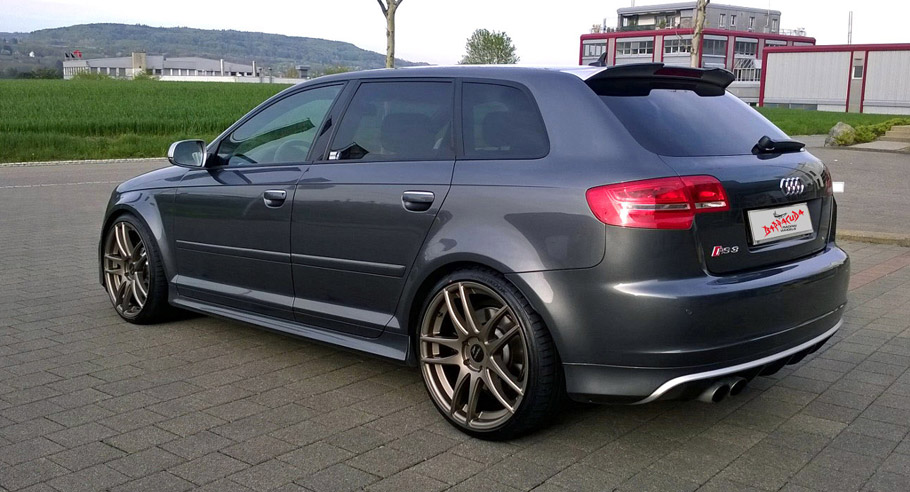 The benefits from the addition of this suspension upgrade, is that it features independently adjustable bounce and rebound damper control, and the ability to lower RS3's ride height by 40 and 35 mm at the front and rear respectively.
There has been nothing additionally done here, despite the fact that many of you have probably wished to see an engine conversion. Still, the Audi RS3 is capable of boasting 367 hp (270 kW) and 465 Nm (434 lb-ft) of torque from its multiple award winning 2.5 litre TFSI five-cylinder engine. This means that it can effortlessly cover the 0-100 km/h sprint in 4.3 seconds, and the 0-200 km/h time in 16.1 seconds. The top speed is 250 km/h.
Source: Barracuda Racing via JMS Fahrzeugteile