BBM Motorsport Introduces BMW E91 330d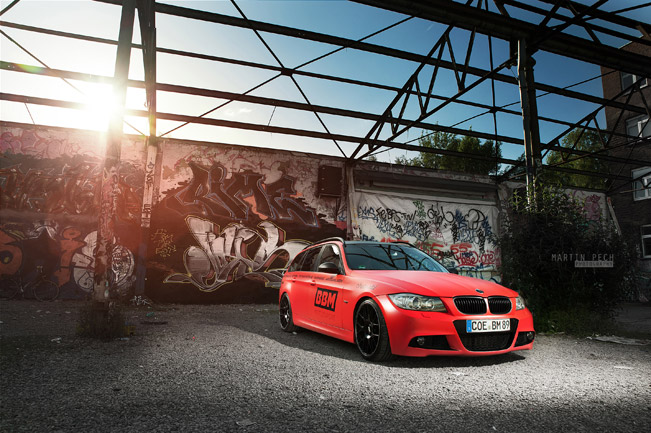 The German based tuning specialists at BBM Motorsport are introducing their latest work done on the BMW E91 330d. The main highlight here is that this BMW's power output was increased from 231 horsepower (170 kW) to a 274 horsepower (201 kW) and the maximum torque from 520 Nm (384 lb-ft) to 659 Newton meters (488 lb-ft).
This power enhancement was achieved via the utilization of BBM chip tuning system. The latter was developed on the basis of the company's own Dynojet 224xLC performance test platform.
What is more, a mojor share of the power boost can also be attributed to the software optimization as well as the complete Supersprint exhaust system. This BMW station wagon was given a KW Street Comfort coilover kit for to facilitate a spinal disk-friendly drive. The vehicle was equipped with a combination of the 8x19 and 9x19 inches BBS CH-R rims and the 225/35 and 225/30 tyres.
And in order to catch more attention, the vehicle was entirely wrapped with matt red foil highlighted in matt black with the help of SFT Carwrap. To make it even more attractive, the BMW emblems and the side markers were tinted in dark shade. The same theme is continued in the interior where the strips were adapted to the look like the matt red exterior wrapping.
Other highlights here are delivered by FM-Coding and include the following: side markers and daytime running lights, a digital speed display system and a comfort eject function. The latter automatically ejects the car key as soon as the "Engine off" button is pressed.
A video giving an example of the sound of the BBM Motorsport BMW E91 330d can be previewed below:
Video Source: YouTube
Source: BBM Motorsport