Bentley Continental GT3 To Make Race Debut In Abu Dhabi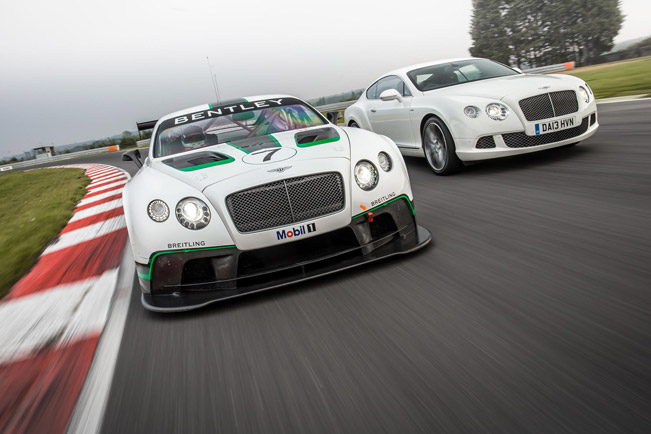 Bentley Continental GT3 Race Car is going to make its competitive debut at the 2013 Gulf 12 Hours in Abu Dhabi on 13th of December 2013. The racing will mark the return of the luxury brand to motorsport, ten years after its success at the 24 Hours of Le Mans in 2003.
Continental GT3 is expected to deliver unique performance in most extreme form. The dynamic debut of the vehicle was at this year's Goodwood Festival of Speed in July. Since then, Bentley's new race car has begun an intensive programme of performance, setup and durability testing at tracks across Europe.
By now, the car has run according to the expectations of the car company and has also proven to be both reliable and fast in all conditions. To go further into detail, this Bentley is powered by a 4.0-litre twin-turbo V8 engine, which generates up to 600 hp (441 kW) in unrestricted race configuration.
In addition, the GT3 race car keeps the luxury Grand Tourer roots of its origins, and this is visible through the steering wheel, carbon racing seat and leather door-pulls which are all trimmed and stitched by hand.
At last is to be mentioned that the car currently undergoes preparation for a full entry in the 2014 FIA Blancpain Series.
Bentley Continental GT3 Specifications:
| | |
| --- | --- |
| Engine | 4.0-litre twin-turbo V8, repositioned to the rear of the engine bay, Cosworth engine management system |
| Power | Approx. 600 bhp derestricted |
| Oil System | Dry sump |
| Transmission | Rear wheel drive, Xtrac six-speed sequential transaxle gearbox, racing clutch, steering wheel mounted paddle operated pneumatic gear shift |
| Drivetrain | Carbon fibre propshaft, limited slip differential |
| Suspension | Double wishbone suspension front and rear, four-way adjustable racing dampers |
| Steering | Hydraulic power-assisted steering |
| Brakes | Ventilated iron disc brakes front and rear, Brembo six-piston front calipers, four-piston rear calipers, driver-adjustable brake bias |
| Safety | FIA-specification steel roll cage, Sparco six-point FIA safety harness, onboard fire extinguisher, onboard pneumatic jack system. |
| Fuel System | FIA-specification racing fuel cell |
| Electronics | Race-specification ABS and traction control. Lightweight race battery. |
| Wheels | OZ Racing 18" x 13" rims |
| Tyres | 310 / 710 R18 |
| Aerodynamics | Carbon fibre front splitter, rear wing and body panels. Lightweight, aerodynamically-optimised bumpers, bonnet, sills and fenders |
| Length | 4950 mm |
| Width | 2030 mm |
| Height | 1350 mm |
| Weight | <1300 kg |
| Weight Distribution | 52 : 48 |
Source: Bentley