BMW F32 435i And F06 Gran Coupé Dinan Performance & Springs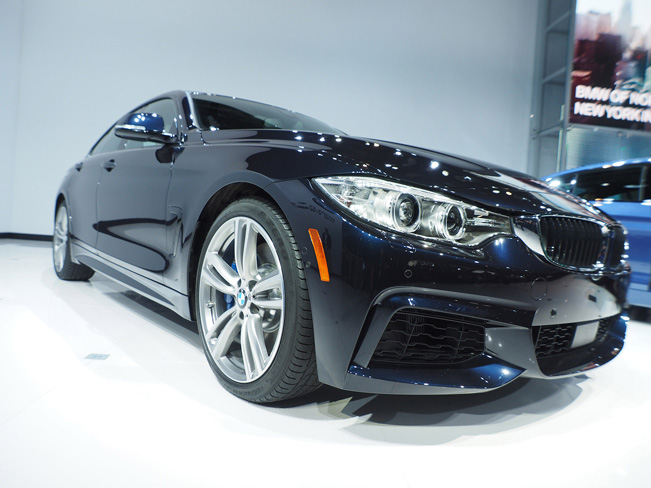 Dinan continues to design and supply us with even more outstanding car upgrades that provide extra speed, handling and high performance on the road.
This time we have upgrades for the F32/F33/F36 435i, F30 335i, and F10 535i! We would not be able to cover the updates for all of the models, but here are several upgrades for their respective car models:
For the F32 435i we have a Performance Spring Set, with which you can have by up to 50% increase in spring stiffness as well as Lowering the vehicle 1" in both the front and the rear.
Dinan's Performance Spring set for the F32 435i now guarantees greater control over the body roll. Dinan lowers the BMW 435i by 1-inch in both the front and rear for more aggressive styling and improved suspension geometry. There is also reduced rear suspension compression under acceleration, giving your car a more controlled feel. Now, for high speed driving situation that require trust in your car's abilities, Dinan offers a improved performance springs, which will also provide a sensible improvement in grip. Now there is excellent steering response to the driver which can be felt in both lower and higher speeds.
Additional ride quality and handling kits are optional to choose from. For this kit includes especially tuned, progressive rate bump stops that maximize suspension travel on the lowered car for improved handling capabilities and ride quality.
For the F06 M6 Gran Coupé you can have the "Coil-Over Suspension Kit"
When running at higher speeds, the car has to be always at its best.  The Dinan Coil-Over Suspension insures that. With a lowered aggressive stance providing improved handling, high performance and comfort with amazing visual looks.Components are designed from 6061-T6 aluminum for appearance and corrosion protection.There are a lot of benefits in upgrading with Dinan's performance coil-over suspension system, some of which include substantial reduction in body roll, spring rates are 15% stiffer for both front and rear, as well as designed to fit into the stock mounts for quiet operation.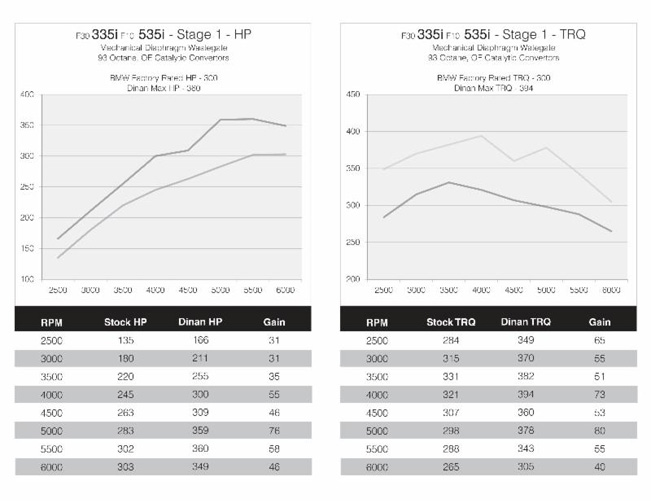 Moreover, up to 1.125" of lowering is possible depending on tire clearance although .625" drop is recommended to maintain ride quality. More improvements add:  threaded collars allow easy and precise front & rear vehicle height adjustments.  Dinan-spec progressive bump stops improve ride quality at lowered ride heights, components are machined from 6061-T6 aluminum and black anodized for a sporty appearance as well as corrosion protection and last but not least, Included suspension packers allow adjustment of bump-stop clearance to fine-tune handling and comfort.
Dinantronics Performance Tuner for F30 335i & F10 535i (N55) (RWD & xDrive):
Manufacture date after June 2013 (Electronic Wastegate). Before July 2013 already supported. Retail Price: D440-1602-ST1,Stage 1: $1999.00 with install time: 1.5 hrs
BMW Factory Ratings: 300 HP (223 kW), 300 lb-ft torque (406 Nm), with Dinantronics Tuner (stage 1): 360 hp (228 kW), 392 lb-ft torque (531 Nm).
Dinantronics Performance Tuner for F32/F33/F36 435i (N55) (RWD & xDrive), Retail Price: D440-1606-ST1, stage 1 $1999.00 with an install Time of 1.5 hrs. BMW Factory Ratings: 300 hp (223 kW), 300 lb-ft (406 Nm) torque but with Dinantronics Tuner (Stage 1): 360 hp (228 kW), 392 lb-ft (531 Nm) torque.
Source: Dinan